Investing in short-term rentals (STRs) is becoming an increasingly popular form of real estate investment. For foreign investors, it can present several advantages and opportunities.
The main appeal of the STR investment strategy lies in the potential for greater returns against relatively low initial investments. By renting out an investment property and vacation homes on platforms such as Airbnb, Vrbo, Booking.com, or HomeAway, investors can unlock a steady stream of income from renters that can be managed successfully through careful property selection, a good local property management company, and marketing.
This article will introduce investing in short-term rentals in the United States and explain how foreign investors can make the most of this unique investment opportunity.
Overview: Short-Term vs. Long-Term Rentals
Long-term rentals (LTRs) involve signing a lease that typically extends for 12 months or longer. Investors can expect long-term tenants to be more reliable and take greater care of their property than short-term tenants. But, there is also less turnover with LTRs, which can limit an investor's potential income due to a fixed rental price over the lease term.
On the other hand, short-term rentals are perfect for investors who seek to maximize their gross rental income. STR leases tend to last only a few days up to a few weeks and can provide landlords with higher gross rental income and potentially greater return on investment (ROI). However, due to the shorter durations of these leases, investors must factor in costs associated with constant tenant acquisition, furniture, and upkeep of the property to ensure profitability.
Short-Term Rental Market Outlook 2023
AirDNA is a data and analytics platform for short-term and vacation rental properties. It collects, aggregates, and analyzes data from over 10 million vacation rentals located in 10,000 cities around the world. This data can be used to make informed decisions about pricing, trends, and more.
The company notes that although much of today's economic talk revolves around the possibility of imminent recession, the outlook for the STR market remains full of potential. Simply put: consumers will continue to prioritize travel. Compared to one year ago, almost all travel indicators have consistently improved, from travel spending to overseas arrivals. Both STR and hotel stays have noticeably improved since 2021—a sign of increased interest in experiential consumption and travel.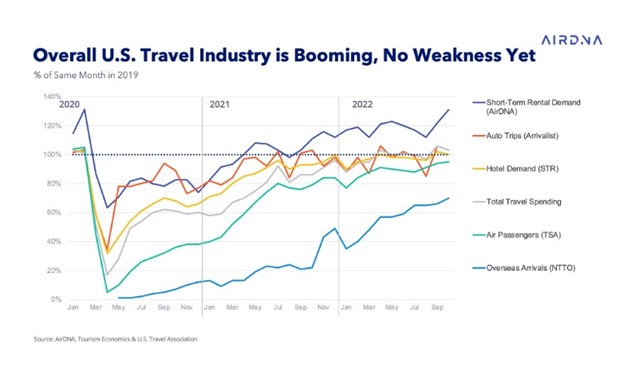 Here are some key takeaways, according to AirDNA's US 2023 Short-Term Rental Outlook:
Demand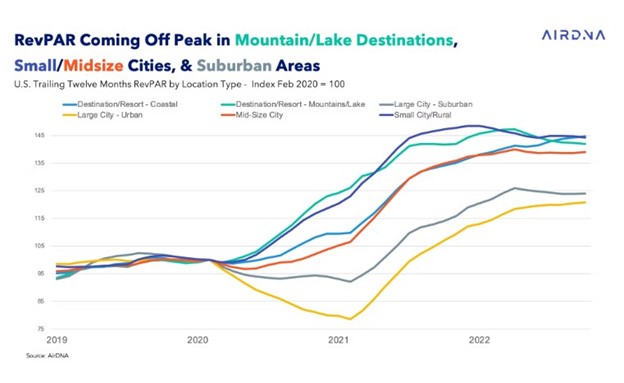 The interest in short-term rental stays last year has exceeded predictions, and the trend will likely continue in 2023. Demand will increase by 5.5% compared to the previous year, signaling a more mature market for vacation rentals.
Supply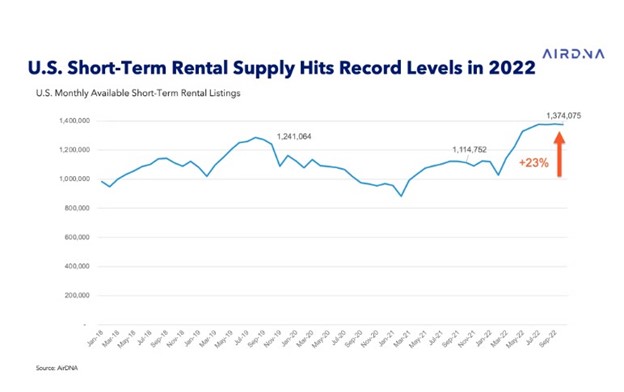 Despite a slight decrease from 2022, the number of nights listed in 2023 is still expected to expand by 9%, providing a promising outlook for vacation rental businesses. Lower profit potential may be felt, but it's still an encouraging sign compared to previous years.
Occupancy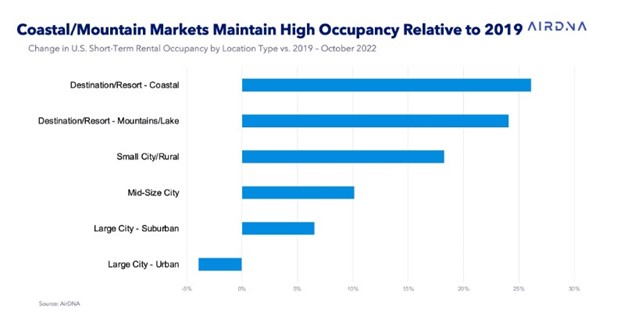 2023's forecasted occupancy rate of 56.4% is still much higher than before the pandemic, despite a second consecutive year of declining occupancy due to increasing supply. This is a promising sign for the industry going forward.
ADR and RevPAR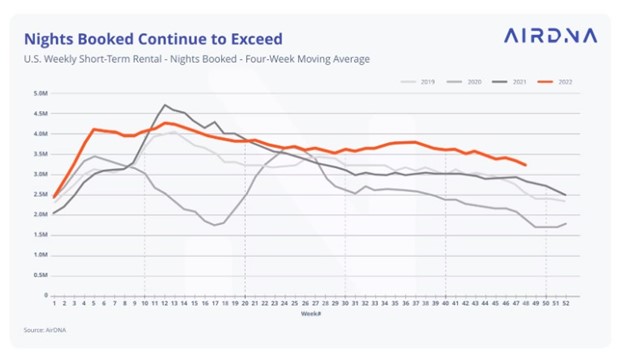 ADR (Average Daily Rate) is the average rate a property earns for each night the property is booked. It is one of the primary metrics used to measure and compare performance in the short-term and vacation rental industry.
RevPAR (Revenue Per Available Room) is the measure of the revenue generated for a given room per day, regardless of occupancy. RevPAR takes into account both occupancy rate and ADR, providing an overall look at a property's performance.
Despite the decrease in occupancy throughout much of 2022, the vacation rental industry is still experiencing positive growth, with ADRs increasing by 5.6%. This increase can be attributed to inflationary pressures. However, this increase does not represent an accurate growth rate, as inflation will be around 7.6% over the same period. Although AirDNA has forecasted that inflation will slow to 3.6% in 2023 and ADR growth will drop to 1.7%, there is still potential for rate growth in the coming year.
Best States for Short-Term Rentals
These are some of the best states and cities for vacation and short-term rental investments in the US, according to AirDNA. Rankings are based on rental demand, RevPAR growth, and overall investment potential:
Tennessee
Tennessee is an ideal location for short-term rentals, with its beautiful landscapes and vibrant culture. In particular, Chattanooga and Townsend are great destinations for vacationers, boasting stunning views of the Smoky Mountains and various activities such as fishing, golfing, and hiking.
Florida
Florida is a world-class destination with plenty of sunny weather and various activities to enjoy. Crystal River on the Gulf Coast, Gainesville in North Central Florida, and Key West at the state's tip provide vacationers with unique experiences. Boasting a wealth of natural beauty from beaches to springs and home to theme parks like Walt Disney World and Universal Orlando Resort, Florida is an ideal place to invest in STRs.
South Carolina
South Carolina is an excellent option for short-term and vacation rentals, offering mild temperatures year-round and its southern charm. Charleston stands out in particular, with its vibrant culture, an incredible array of restaurants and bars, historical sites, and stunning beaches.
Georgia
Georgia is an exceptional destination for vacation rentals, and the small town of Helen is particularly special. Located in the North Georgia Mountains, Helen offers breathtaking views of lush forests, rolling hillsides, and the Chattahoochee River. From outdoor activities like rafting, hiking, and zip-lining to the German-style architecture throughout the downtown area and plentiful spas and restaurants, Helen makes a great vacation rental getaway.
Oklahoma
Oklahoma is an ideal vacation rental destination, and the small town of Broken Bow stands out for its incredible natural beauty. In the southeastern part of the state, Broken Bow is surrounded by peaceful pine forests and serene lakes, such as Broken Bow Lake, perfect for outdoor activities like horseback riding and kayaking. The town also has a variety of shopping outlets and restaurants, making it a great place to stay for a fun and relaxing getaway.
Missouri
Missouri is an excellent place for investing in short-term rentals, especially in the bustling city of Kansas City. With its thriving economy, a wide variety of cultural attractions and entertainment options, and convenient access to the rest of the state, KC provides investors with plenty of opportunities for success. The city's selection of short-term rental properties is also growing, giving investors an even greater chance to make a return on their investments.
Pros and Cons of Investing in STRs
Investing in short-term rental properties (STRs) can be a viable option for real estate investors who understand the risks and potential rewards of entering the market. Evaluating the opportunity of an STR investment requires carefully weighing both the advantages and disadvantages to ensure it is worth pursuing compared to traditional long-term rentals.
Pros of Investing in STRs
Higher prospective return on investment than traditional long-term rentals.
Potential for more revenue through multiple rent cycles.
More value for the property due to higher cash flow.
Ability to set different pricing and offer discounts to maximize occupancy.
Cons of Investing in STRs
Higher risk of vacancy due to seasonality.
Potentially higher costs due to increased upkeep and marketing expenses.
Risk of legal issues due to local regulations.
Shortage of experienced, reputable management companies in certain areas.
Tips for Investing in Short-Term and Vacation Rentals
Investing in short-term and vacation rentals in the US can be a great way to diversify a real estate portfolio, but there are some important things to consider before diving in.
When choosing the market for your rental, analyze demand factors such as the location's attractions, accessibility, and competitors. Be sure to research local laws and obtain appropriate licenses to comply with legal requirements.
Once you have selected your market, create strategies to maximize your return on investment. This could include creating bundles for customers who book multiple nights to get discounts or running promotions during off-peak seasons. Additionally, find ways to make your property stand out from the rest: Use high-quality photos, provide extras like beach towels, a personalized welcome gift, or a fully-equipped kitchen that guests may not expect, and ensure a level of cleanliness that will keep customers leaving five-star reviews.
It's important to remember that STRs require significant attention. You need a team that works around the clock on the investment – booking reservations, maintenance needs, housekeeping services, and more – and a lender experienced in financing short-term rental properties. With thoughtful planning and the right team, short-term rental investments in the US can lead to impressive returns.