As the global real estate market evolves, foreign investors constantly seek new opportunities for profitable investments. However, with so many options available, it can be challenging to determine which markets offer the most potential. For those looking to enter the US market, investing in Arizona real estate may be just the opportunity they need.
With a growing population, a strong economy, and a thriving real estate market, the "Grand Canyon" state is quickly becoming a top choice for foreign investors seeking high investment returns from single-family homes, condos, and Airbnbs. According to recent reports, Arizona has become one of the fastest-growing states in America, with a population increase of more than 2.3 million people since 2000. This growth has fueled a demand for rental properties and has made the state an attractive option for real estate investors looking for renters and long-term returns.
By investing in the state's real estate market, foreign investors can take advantage of lower prices than in other popular markets like San Francisco or New York while still getting high rental yields and capital appreciation. In this article, we will explore the potential of investing in Arizona real estate and provide tips on making the most of this exciting opportunity for investing.
Real Estate Investing in Arizona
Arizona has experienced steady population growth over the past several decades, making it one of the fastest-growing states in the US. The state's population growth has been driven by a strong job market, a favorable business climate, and a relatively low cost of living. With an estimated population of over 7 million, the state is projected to continue growing in the coming years.
In terms of economic growth, the state enjoys a diverse economy with several thriving industries, including healthcare, advanced manufacturing, and technology. Arizona has a business-friendly environment with relatively low taxes and a high quality of life. The real estate market has also been growing steadily in recent years, with housing prices appreciating at a healthy rate.
In addition to strong economic and population growth, several other factors make investing in real estate in Arizona an attractive option for foreign investors. For example, the state's warm and sunny climate is a major draw for retirees, vacationers, and snowbirds worldwide. The Grand Canyon State also boasts year-round outdoor activities, world-class golf courses, and a vibrant cultural scene.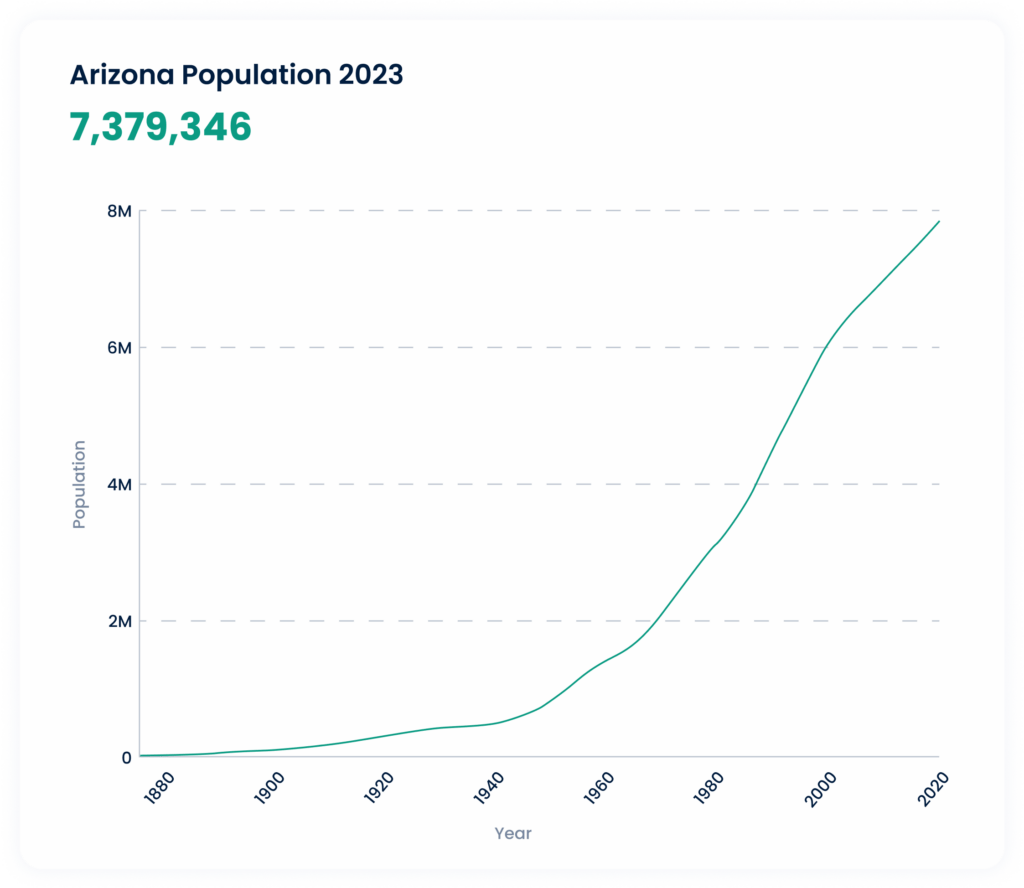 Population
Arizona is home to over 7.4 million and has added nearly 95,000 new residents over the last year alone (US Census Bureau).
The population increased by 13.1% between 2010 and 2022.
The most populous cities in the Phoenix metro area are Phoenix (the capital of AZ), Mesa, Chandler, Gilbert, Glendale, Scottsdale, Peoria, Tempe, Surprise, Sun City, Fountain Hills, and Anthem.
Other large real estate markets include Tucson, Yuma, Flagstaff, Lake Havasu City, Prescott, and Kingman.
27% of the population is between the ages of 20 and 39, based on recent data from Census Reporter.
Over 32% of residents hold bachelor's or advanced degrees.
Phoenix and Tucson ranked among the top 50 best metro areas for STEM professionals, according to WalletHub.

Economy
GDP is $420 billion and has grown by more than 60% over the last decade.
According to the US Bureau of Labor Statistics, mining and logging, manufacturing, professional and business services, education and health services, and leisure and hospitality are the main sectors contributing to the economy.
The unemployment rate is 3.7% (February 2023).
The employed population is over 3 million, growing by 2.4% year over year (Data USA).
Key sector opportunities for industries in AZ are aerospace and defense, manufacturing, biosciences and health care, business and financial services, film and digital media, and technology and innovation.
The 10 biggest employers in Arizona are Banner Health, Walmart, Amazon, Kroger, Wells Fargo, Raytheon, Albertsons, Dignity Health, HonorHealth, and The Home Depot.
Arizona is home to 7 military bases, including Davis-Monthan Air Force Base, Luke Air Force Base, Fort Huachuca Army Base, and the MCAS Yuma Marine Corps Base.
Arizona State University in Tempe, the University of Arizona in Tucson, and Grand Canyon University in Phoenix have ranked the top 3 universities in the state by Niche.com.
The state is home to over 12 interstate and state highways and 11 major airports.
Los Angeles, San Diego, Las Vegas, Albuquerque, and El Paso are all within a one-day drive of Phoenix and Tucson.
Arizona Real Estate Market Stats & Trends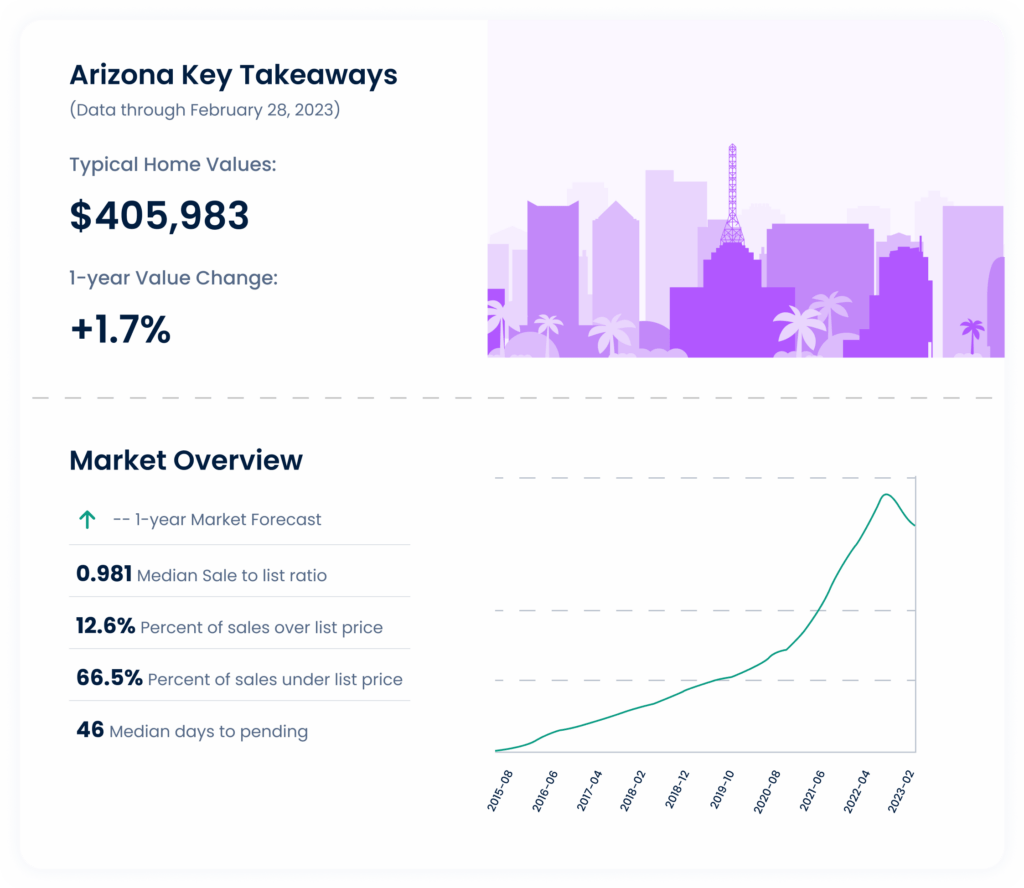 As of February 2023, many homes in the state are selling for below the asking price, and listings are taking longer to go from active to pending. This provides a lower purchase price, more negotiating power, and long-term potential for buyers. While it may not be ideal for sellers, investors can carefully analyze the market and take advantage of the right opportunities to get more value for their investment and see long-term gains.
Here are the most recent housing market statistics, according to Zillow (February 28, 2023):
The typical home value is $405,983.
Increase of 1.7% year over year.
Home values have increased by about 200% over the past eight years.
Homes go under contract in 46 days (median) after being listed for sale.
Top AZ Cities for Buying Investment Property
Here are some cities to consider for investment real estate. Population data is from Data USA, the latest home values are from Zillow (February 2023), and median rent prices for 3-bedroom homes are from Zumper (March 2023).
Phoenix
Phoenix is the capital and a major hub for business and tourism in the Southwest. It boasts a strong real estate market with a diverse range of housing options, making it an attractive option for both personal and investment properties:
Population: 1,660,000
Change in the population (since 2020): 1.56%
Home value: $394,870
Change in home values (5-year): 70.3%
Median rent: $2,199
Rent change (year over year): 1.0%
Tempe
Located in the Phoenix metropolitan area, Tempe is known for its vibrant downtown area, top-rated universities, and thriving business community. It offers a mix of urban and suburban living with a wide range of housing options, from high-end condos to historic homes:
Population: 191,607
Change in the population (since 2020): 2.22%
Home value: $442,783
Change in home values (5-year): 58.8%
Median rent: $2,450
Rent change (year over year): 2.0%
Scottsdale
As a premier destination in the state, Scottsdale is known for its luxury real estate and high-end lifestyle. It's a haven for golf enthusiasts, with more than 200 courses in the area, and is home to an enviable arts and culture scene:
Population: 254,995
Change in the population (since 2020): 1.75%
Home value: $745,849
Change in home values (5-year): 65.4%
Median rent: $4,000
Rent change (year over year): 5.0%
Mesa
Located just east of Phoenix, Mesa is the third-largest city and offers a diverse range of housing options at more affordable price points than its larger neighbor. It caters to a range of lifestyles, with a bustling downtown area and numerous outdoor activities in the surrounding mountains and desert:
Population: 508,918
Change in the population (since 2020): 1.84%
Home value: $409,807
Change in home values (5-year): 64.0%
Median rent: $2,185
Rent change (year over year): -2.0%
Tucson
Located in the southern part of Arizona, Tucson is the second-largest city in the state and offers a mix of urban amenities and outdoor recreation opportunities. Its real estate market is known for its affordability in comparison to neighboring Phoenix, and it's home to several universities and major medical centers:
Population: 1,040,000
Change in the population (since 2020): 1.1%
Home value: $310,788
Change in home values (5-year): 69.0%
Median rent: $1,795
Rent change (year over year): 0.0%
Other Arizona Real Estate Markets
While major cities like Phoenix, Tucson, and Scottsdale are known for their strong real estate markets, there are several smaller towns and communities throughout the state that are also worth considering for a real estate investment portfolio:
Chandler
Glendale
Peoria
San Tan Valley
Goodyear
Yuma
Avondale
Flagstaff
Queen Creek
Maricopa
Lake Havasu City
Casa Grande
Prescott
Arizona Real Estate: A Promising Investment Opportunity
Arizona's real estate market offers foreign investors an opportunity for high returns but requires careful consideration before investing. In-depth market knowledge is essential for success, and working with a trusted team is crucial for foreign investors.
A knowledgeable realtor and property manager can provide valuable insights into the market and help identify investment opportunities with solid rental income. Additionally, working with a lender that specializes in working with foreign nationals can help ease any potential hurdles that may arise from different tax laws or documentation requirements.