Michigan, nicknamed the "Great Lakes State", is home to a diverse population of over 10 million residents, thriving manufacturing and technology industries, and picturesque landscapes in the Upper Midwest region of the US. As foreign nationals seek investment opportunities in the United States, Michigan's real estate market offers a unique blend of affordability, growth potential, and promising returns.
The capital is in Lansing in the south-central part of the state, while Detroit, its largest city, serves as a major hub for commerce and industry. Michigan is divided into two distinct peninsulas: the Upper Peninsula, known for its forests and mineral resources, and the Lower Peninsula, housing most of the population and economic centers.
This blog post delves into the population and economic trends shaping the state, explores the latest residential real estate statistics, and highlights top cities for both short-term and long-term rental property investments. Join us as we uncover some of the secrets to help you successfully navigate the Michigan real estate market and potentially maximize your investments and cash flow.
Real Estate Investing in Michigan: Population and Economic Drivers
Michigan has experienced steady population growth over the past decade. This growth can be attributed to various factors, including a strong job market, affordable housing options, and an attractive quality of life. The influx of new residents creates a consistent demand for both rental and owner-occupied properties, making Michigan an appealing destination for real estate investors.
The state's economy is primarily driven by three key industries: automotive manufacturing, agriculture, and tourism. It is home to the headquarters of major automotive companies like General Motors, Ford, and Stellantis (formerly Fiat Chrysler), which collectively employ thousands of residents and contribute significantly to the local economy.
Additionally, the state's rich agricultural sector, encompassing dairy farming, fruit production, and more, generates substantial economic activity. Finally, its abundant natural beauty, including the Great Lakes, picturesque landscapes, and numerous recreational opportunities, attracts millions of tourists annually presenting opportunities for vacation rental investors.
As population growth continues and key economic sectors remain strong, the demand for housing should persist. By targeting locations with robust population growth and thriving industries, investors can position themselves to capitalize on the increasing demand for rental properties, leading to potentially higher returns and long-term stability for their investment portfolios.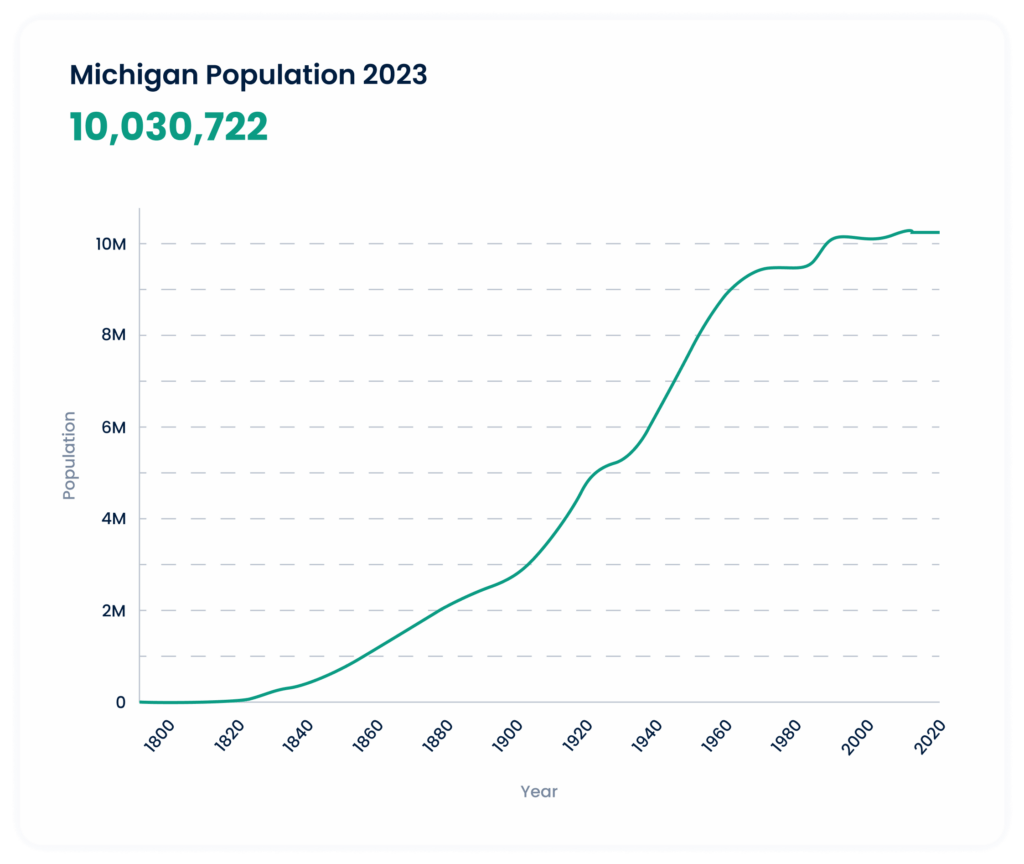 Population
Home to over 10,500,000 residents with a median age of 40.2 years, according to Census Reporter.
Population grew by about 1.5% between 2010 and 2020 based on the most recent data from the US Census Bureau.
Michigan is the 10 most populous state in the US.
Per capita income is $35,353 and median household income is $63,498, both figures about 10% lower than the U.S.
Cost of living is 3% below the national average while housing is 14% lower than the average in the US, according to RentCafe.

Economy
State GDP is $635.2 billion, growing by nearly 50% over the last ten years.
Unemployment rate is 3.8% (BLS April 2023) with the construction, government, education and health services, and leisure and hospitality sectors reporting the most robust job growth.
Leading industries include advanced manufacturing, life sciences and medical devices, mobility and automotive manufacturing, professional and corporate services, and tech.
Largest employers are Whirlpool Corporation, Joyson Safety Systems, Ford Motor Company, Stryker Systems, Stellantis NV, Dow, General Motors, and Kellogg.
Ranks #1 in the nation for concentration of engineers and in the top 10 states for total STEM degree completions.
Best colleges in Michigan are University of Michigan – Ann Arbor, Michigan State University, Michigan Technology University, and Andrews University.
19% of residents hold a bachelor's degree while 12% have been awarded a post-graduate degree.
Transportation infrastructure includes numerous interstate and state highways, Detroit Metropolitan and Gerald R. Ford international airports, passenger and freight rail service, 9 international crossings with Canada, and 33 marine freight cargo ports.
Michigan Real Estate Statistics & Trends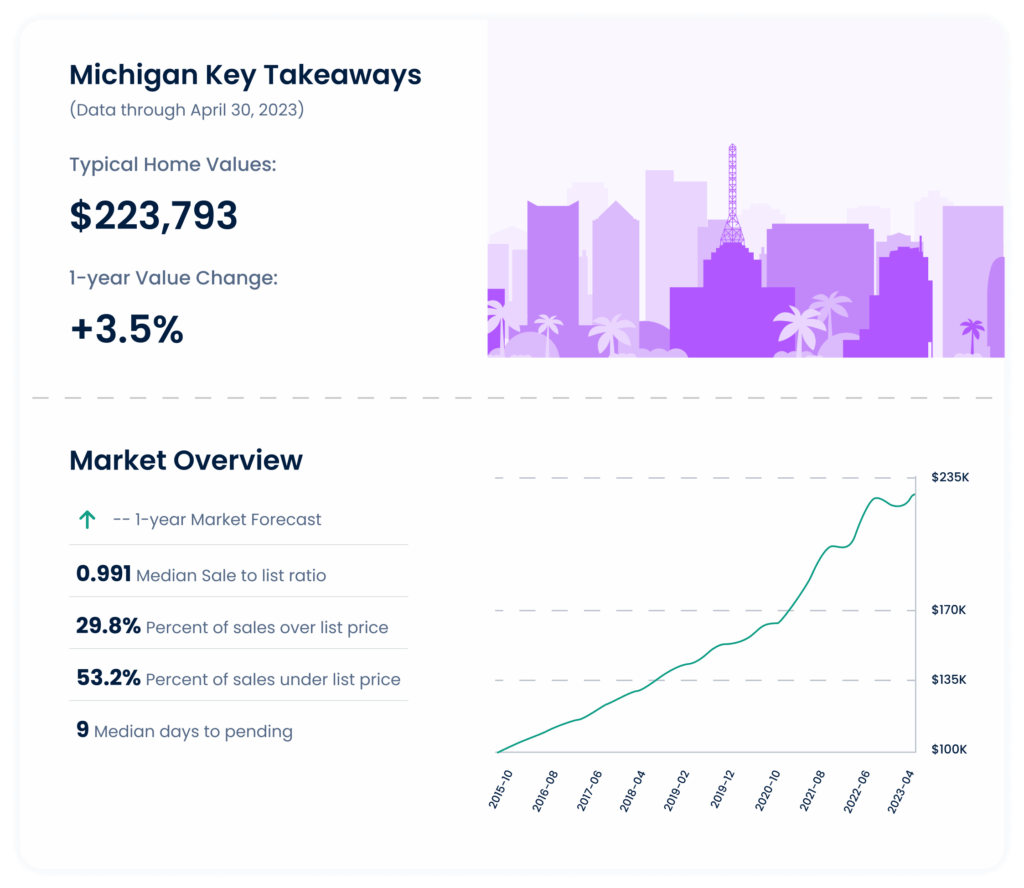 A significant portion of homes are selling below their original listing price, while price increases show signs of moderation. Properties tend to move quickly, with homes typically going under contract in just a matter of days after being listed for sale.
For real estate investors, these trends in the housing market signal potential opportunities for purchasing properties at competitive prices. Additionally, the quick pace of homes going under contract suggests a strong demand for housing, which can contribute to stable rental income and promising returns on investment.
Here are the most recent housing market statistics, according to Zillow (April 30, 2023):
Typical home value is $223,793.
Increase of 3.5% year over year.
Home values have increased by more than 50% over the past 5 years.
Homes go under contract 9 days (median) after being listed for sale.
Zillow forecasts an increase in home prices over the next year.
Unlocking Opportunity: uncover the potential of Michigan's 5 Largest Cities
Here are Michigan's 5 largest cities and why we think you should consider them when approaching Michigan's Real Estate Market. Population figures are sourced from Data USA, while the latest home values come from Zillow (April 2023), and median rent prices for 3-bedroom properties are provided by Zumper (May 2023).
Detroit
Located in southeastern Michigan, Detroit is the state's largest city and a major hub for the automotive industry, with a rich history in music and arts. Detroit's revitalization efforts and diverse employment opportunities make it an attractive location for rental properties, catering to the housing needs of its growing workforce.
Population: 4,320,000
Change in population (since 2020): -0.1%
Home value: $65,823
Change in home values (5-year): 45.3%
Median rent: $1,800
Rent change (year over year): 0.0%
Grand Rapids
Grand Rapids is situated on the Grand River in the western part of the state with proximity to Lake Michigan's shoreline. The city's thriving downtown and expanding job market create a strong demand for rental properties among young professionals and families looking to enjoy the city's amenities.
Population: 2,320,000
Change in population (since 2020): -0.30%
Home value: $212,413
Change in home values (5-year): 286%
Median rent: $1,200
Rent change (year over year): 3.0%
Warren
Positioned in the Detroit metropolitan area, Warren boasts a diverse economy with a strong manufacturing base. The city offers numerous recreational opportunities within its parks and green spaces, drawing in residents seeking a suburban lifestyle.
Population: 134,200
Change in population (since 2020): -0.45%
Home value: $186,323
Change in home values (5-year): 60%
Median rent: $1,400
Rent change (year over year): -1.0%
Ann Arbor
Ann Arbor, home to the prestigious University of Michigan, is a bustling college town in southeastern Michigan with a thriving arts and cultural scene, as well as a robust tech sector. These factors help generate a steady demand for rental property, offering the potential for consistent rental income.
Population: 121,100
Change in population (since 2020): 0.30%
Home value: $474,616
Change in home values (5-year): 28%
Median rent: $2,750
Rent change (year over year): 15.0%
Lansing
Lansing is the state capital and lies in the south-central part of the state. It is a significant center for government, education, and healthcare industries, helping to ensure a stable rental market driven by professionals and students seeking housing.
Population: 117,500
Change in population (since 2020): 0.28%
Home value: $138,042
Change in home values (5-year): 51%
Median rent: $1,250
Rent change (year over year): 4%
More Michigan Cities for Real Estate Investors
In addition to the five cities highlighted above, real estate investors may wish to explore other locations, as the state offers a diverse range of investment opportunities across various markets. By considering smaller cities and towns with emerging industries or revitalization initiatives, investors can uncover unique possibilities for rental properties. Catering to different tenant demographics may lead to higher returns and long-term growth prospects.
Here are more cities to consider, listed by population:
Sterling Heights
Dearborn
Livonia
Troy
Westland
Building a Strong Local Team and Choosing the Right Financing
The key to success in the Michigan real estate investment market lies in building a strong local team and choosing the best financing option for your individual investment strategy.
A knowledgeable realtor will provide invaluable guidance in identifying opportunities and navigating the intricacies of the local market. An experienced property manager can ensure the smooth operation of your investment property while maximizing rental income and minimizing vacancies. Furthermore, collaborating with a reliable lender is crucial for securing favorable financing terms that align with your long-term goals.
By assembling a team of trusted professionals and carefully considering your financing options, you can confidently enter the real estate market and capitalize on the state's unique blend of affordability, growth potential, and promising returns. The journey to successful real estate investing begins with a solid foundation, and with the right support, your property portfolio is positioned to succeed.