New York State offers some of the highest-valued and most potentially profitable real estate opportunities in the world, making it an attractive destination for both local and global buyers.
With its vibrant economy, highly desirable locations, and diverse housing options, it's no wonder why more and more foreign real estate investors are flocking to New York State to purchase residential properties. But what makes this state so appealing to international buyers?
Read on to discover exactly why owning real estate in the State of New York is such a hot commodity amongst overseas investors – from financial benefits to lifestyle advantages.
Why Invest in New York State Real Estate?
New York State has a diverse landscape of cities, towns, and villages. From the bustling cities of NYC and Buffalo to the smaller communities of Rochester and Syracuse, the state offers plenty of new development and resale opportunities for investors interested in real estate investment. Investing in New York State and NYC real estate can be immensely rewarding, offering both financial gains, solid cap rates, and lifestyle benefits.
For investors looking for an opportunity with potentially high returns on their investment, investing in New York's housing market can offer numerous rewards. With its dense population of New Yorkers and strong job market, the state is primed for continued growth in real estate prices. In addition to this potential price appreciation, cash flow from higher rents can provide steady rental income even during downturns in the market.
There are many lifestyle advantages as well. With its numerous urban areas, beach towns, wineries, and national parks, the state offers a variety of lifestyles for people of all ages and interests. Living or vacationing in some of the most beautiful places on Earth can be incredibly rewarding for both investors and their families.
New York State has several types of rental properties available for investment. These range from single-family homes to multi-family apartment buildings, manufactured housing communities, turnkey property, short-term Airbnb vacation rentals, and more.
Each of these investment opportunities has its unique set of advantages and disadvantages that should be carefully assessed by the property owner before making an investment. Many investors choose to minimize the hassle of ownership by hiring a property management company to find qualified tenants and keep vacancy rates low.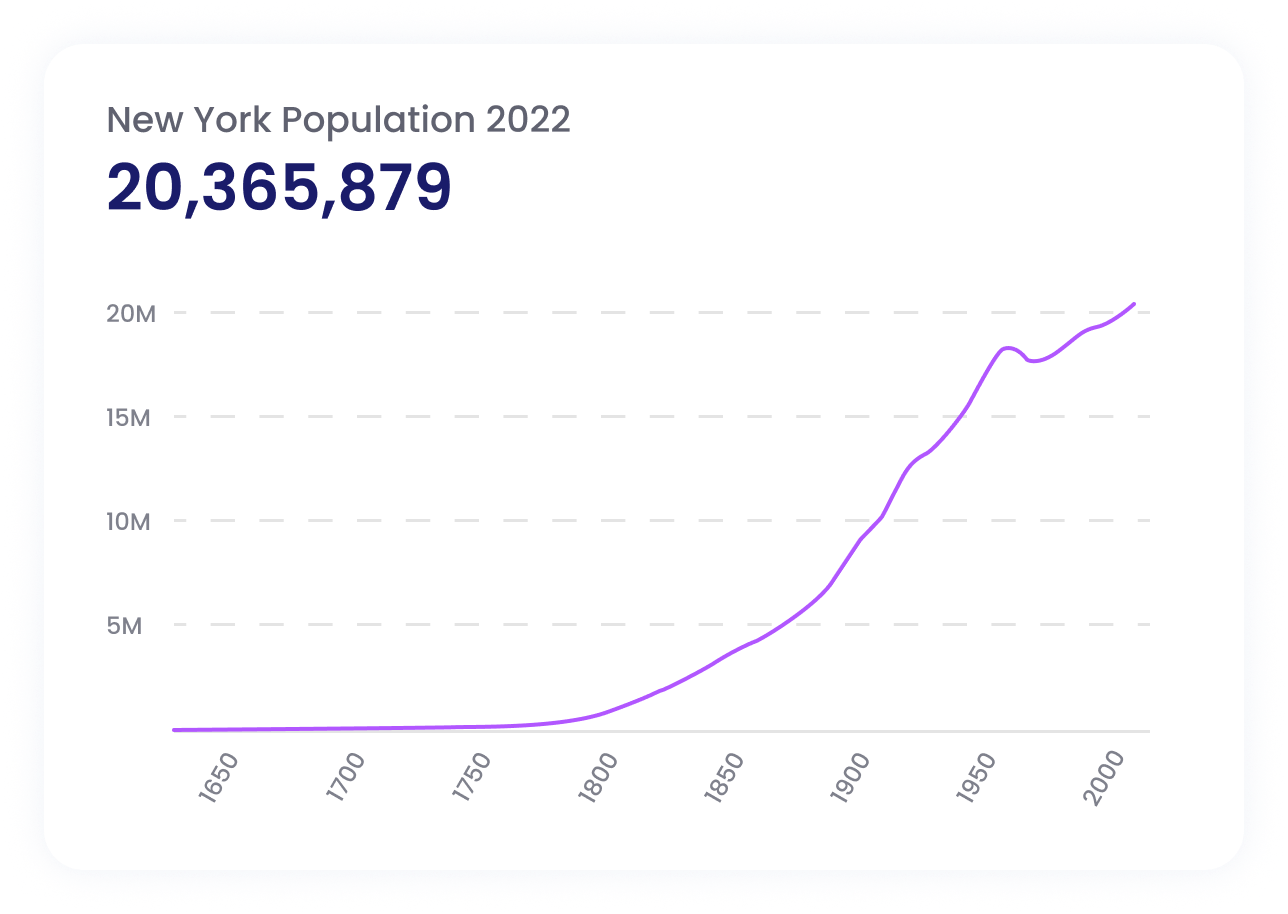 Population
Population of New York is over 20 million, according to the

U.S. Census Bureau

Over the past 10 years, the population of New York State grew by 4.2% (April 2010 vs. April 2020)

45% of the housing units in the state are renter-occupied, based on data from

Census Reporter

Median age is 39.8 years, with 52% of the population between the ages of 20 and 59

Nearly 40% of the residents hold a bachelor's degree or an advanced degree, about 10 percent higher than the rate in the US

Per capita income is $43,078 and median household income is $74,314, both metrics 10% higher than in the United States overall


Job Market
GDP of New York State is over $1.9 trillion, according to the

St. Louis Fed

The state's gross domestic product increased by 52% over the past ten years

More than 9.5 million people are employed in New York, growing by 3.5% year over year, based on the most recent research from the

U.S. Bureau of Labor Statistics

Unemployment in the State of New York is 4.4%, about the same level as prior to the pandemic

Major employment sectors include Wall Street, agriculture, exports, high technology, media and entertainment, and tourism

New York is home to hundreds of schools, colleges, and universities, such as the State University of New York (

SUNY

) system, Cornell University, Columbia University, University of Rochester, West Point, Barnard College, and Sarah Lawrence College
New York Real Estate Market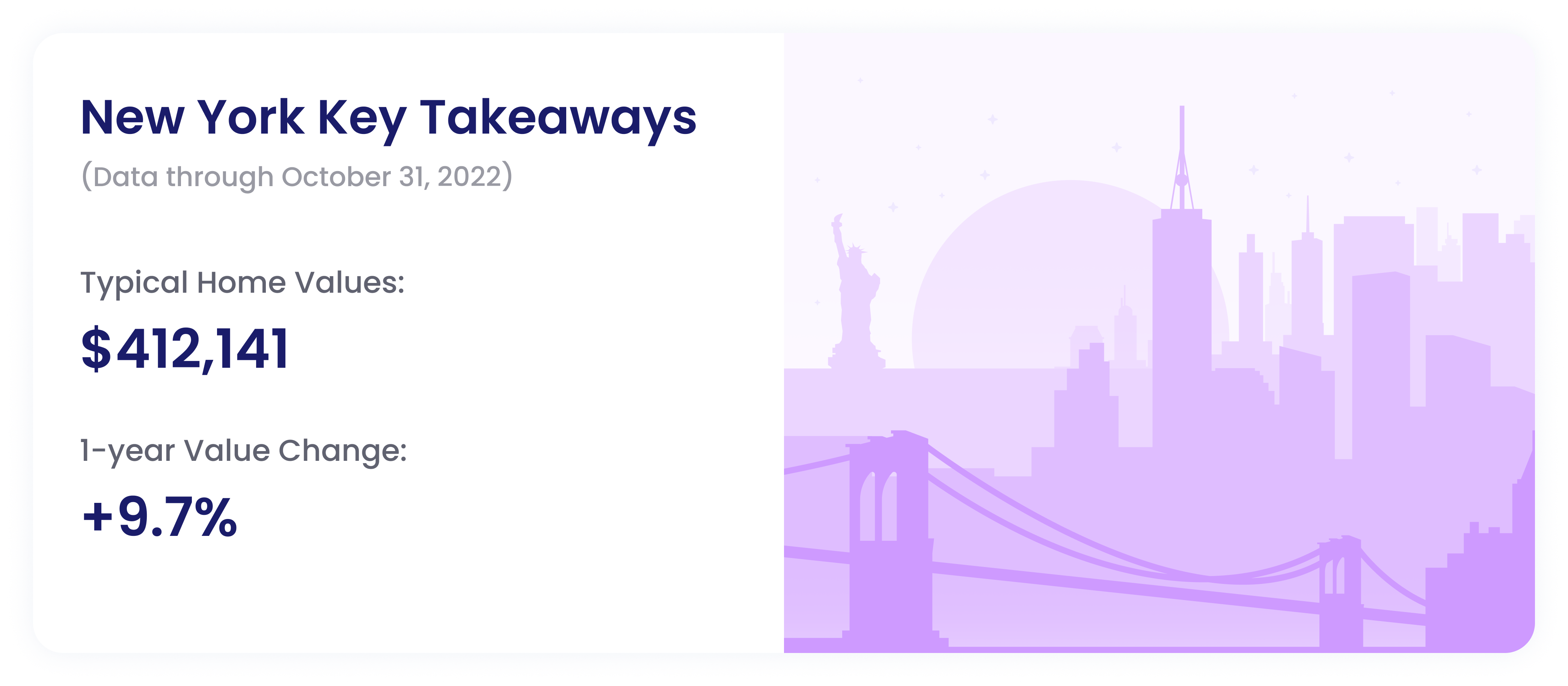 New York home values increased by 9.7% over the past year, with the typical value of a home in New York State $412,141, according to Zillow (October 31, 2022). The company predicts home values in the state will continue to rise over the next 12 months.
Typical home value is $412,141

Increase of 9.7% year over year

Home values in New York have increased by more than 60% since August 2014

Sale-to-list price ratio is 100.5%, as reported by

Redfin

, which means homes are selling for the list price on average

Homes in New York go under contract 37 days (median) after being listed for sale
Investment Property in New York State
Encompassing an impressive 54,500 square miles (141,300 square km), New York is packed with over 500 cities and towns. These municipalities vary in population size from nearly 9 million to fewer than 3,000 inhabitants.
Here are some New York real estate markets foreign investors may wish to consider buying investment property, ranked by the number of residents. Population data is from the World Population Review, home value trends are from Zillow, and rent data for 3-bedroom homes is from Zumper, as of December 2022.
New York City Real Estate
New York City is the most populous city in the United States and a global center for commerce, finance, art, culture, media, research, education, technology and entertainment. It is home to nearly 9 million residents living in five boroughs—Brooklyn, Queens, Manhattan, The Bronx and Staten Island.
Population: 8,930,002

Change in population (since 2020): 0.71%

Home value: $783,175

Change in home values (5-year): 20.5%

Median rent: $4,200

Rent change (year over year): 35%
Buffalo
Buffalo is located in Erie County on Lake Erie's eastern shore. The city is known for its rich history, diverse culture, and vibrant economy. With a strong presence of blue collar industry, Buffalo also has institutions such as the University at Buffalo, Buffalo State College, and the Buffalo Niagara Medical Campus.
Population: 281,757

Change in population (since 2020): 0.61%

Home value: $210,685

Change in home values (5-year): 79.4%

Median rent: $1,300

Rent change (year over year): 1%
Rochester
Rochester is located on the southern shore of Lake Ontario and near the Finger Lakes region and is known for its vibrant arts, culture, innovation and educational opportunities. The city is home to several prestigious universities such as University of Rochester, Rochester Institute of Technology, and St. John Fisher College, and hosts various festivals, concerts, events, and outdoor activities throughout the year.
Population: 211,480

Change in population (since 2020): 0.04%

Home value: $218,880

Change in home values (5-year): 50.5%

Median rent: $1,300

Rent change (year over year): -9%
Syracuse
Syracuse is located in central New York State and has a population of nearly 150,000. It is home to Syracuse University, several other higher education institutions, and many historic landmarks and cultural attractions like the Everson Museum of Art, Erie Canal Museum, Onondaga Lake Park and Armory Square.
Population: 149,310

Change in population (since 2020): 0.23%

Home value: $164,521

Change in home values (5-year): 62.1%

Median rent: $1,500

Rent change (year over year): 18%
Albany
Albany is the capital of New York State, located in the heart of the Hudson Valley. It is known for its rich history, architecture and commitment to higher education. Home to several universities such as SUNY Albany and Albany Law School, residents can also enjoy attractions like the Empire State Plaza, New York State Museum and Corning Tower Observation Deck. The city has a diverse economy that includes sectors such as finance, education, healthcare and technology.
Population: 99,498

Change in population (since 2020): 0.14%

Home value: $279,605

Change in home values (5-year): 43.9%

Median rent: $1,550

Rent change (year over year): -4%
Other real estate markets in New York State
Queens

West Village

Yonkers

New Rochelle

Cheektowaga

Mount Vernon

Schenectady

Utica

Brentwood

Hempstead

White Plains

Levittown

Troy

Irondequoit

Niagara Falls
Conclusion
The US real estate market is booming, and savvy foreign investors are taking note. So now just might be the time to invest in real estate in New York state – one of America's top economic performers. With a healthy job market, low unemployment, and skyrocketing home values, property prices in The Empire State are soaring like never before.
The potential rewards of investing in real estate in New York can be enormous – but success requires knowledge and planning. Be sure to research the local market carefully before making any decisions, seek the advice of industry experts, and consult a qualified lawyer to ensure that your purchase is legally sound. With the right approach, you could be on your way to achieving the financial success you've been dreaming of.
Click here to read in our Learn page more market analysis of different states and cities.