Imagine a place where the spirit of the Wild West meets modern economic stability and growth, where the land is as diverse as the investment opportunities it offers.
Welcome to Oklahoma, a hidden gem in the heartland of America. For real estate investors, this housing market presents a unique landscape filled with potential.
Known for its cowboy culture and oil production, the state is also home to a steady real estate market that attracts investors from around the globe. Its cities, from Tulsa's Art Deco treasures to Oklahoma City's bustling urban life, offer a variety of single-family and multifamily properties to suit various investment and financing strategies.
In this blog post, we'll provide insights into local trends and rental markets in the state of Oklahoma. This ride promises to be as enlightening as it is exciting, so let's saddle up and hit the trail.
Population and Job Growth
Oklahoma's economic landscape is currently experiencing a period of growth, with job opportunities on an upward swing across the state. The increase in job openings reflects the expansion of various industries in both urban and rural areas. This trend has attracted a diverse array of talent to the state, contributing to population growth.
The employment-to-population ratio is also seeing an uptick, which may suggest a strong labor market. This trend might be of interest to those observing the housing market, as it could potentially indicate a demand for single-family homes and other rental properties.
Looking ahead, some forecasts for Oklahoma's job market are positive. If these predictions hold true, they could lead to an increase in residents over the coming years. For those interested in the real estate market from a global perspective, this could mean a larger pool of potential tenants.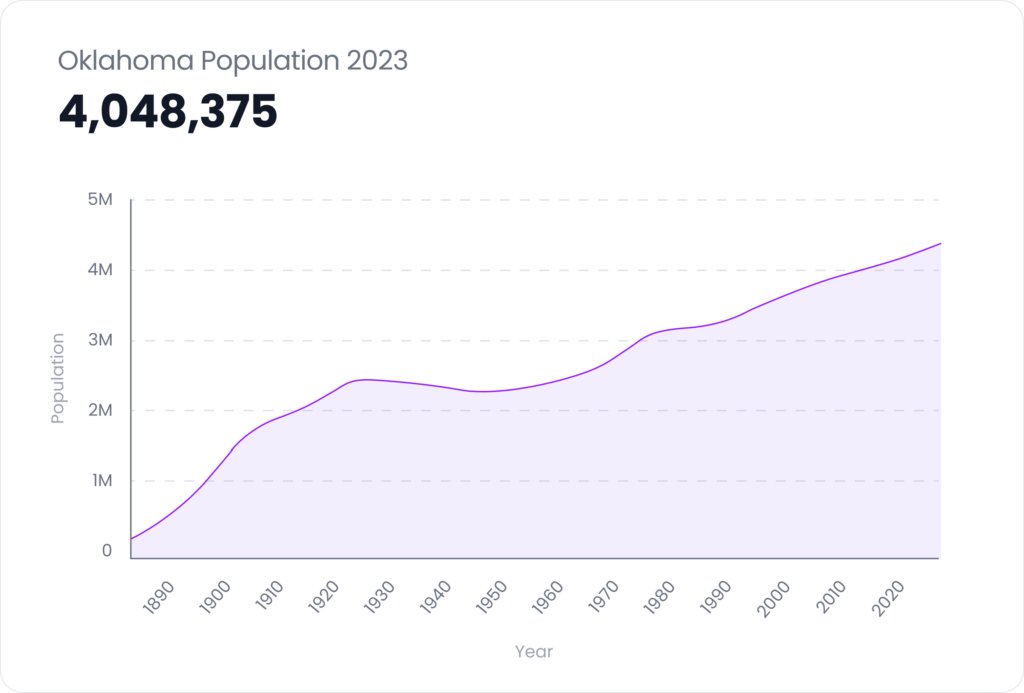 Population
Home to over 4 million residents, the state's population has steadily grown by 7% since 2010.
Oklahoma Commerce predicts the population will reach 4.7 million over the next 50 years.
Cost of living is 12% lower than the national average.
Per capita income is $29,969 and median household income is $55,826, both figures about 20% less than the national average.
Median age is 37.2, with over half of the population between the ages of 20 and 59, based on the most recent data from Census Reporter.

Economy
State GDP is over $240.5 billion and has increased by nearly 38% over the past decade.
Unemployment rate is 2.7% with an employment-population ratio of about 60%, according to the U.S. Bureau of Labor Statistics.
The largest employers are the U.S. Department of Defense, Wal-Mart, Amazon, Integris Health, and Hobby Lobby Store, Inc.
Key industry sectors in the state include aerospace and defense, agriculture and biosciences, energy, information and financial services, and tourism.
Major universities are the University of Oklahoma, University of Tulsa, Oklahoma State University, and Oklahoma City University.
Nearly 90% of the residents are high school graduates, while about 28% hold a bachelor's degree or an advanced degree.
Home Price Stats and Trends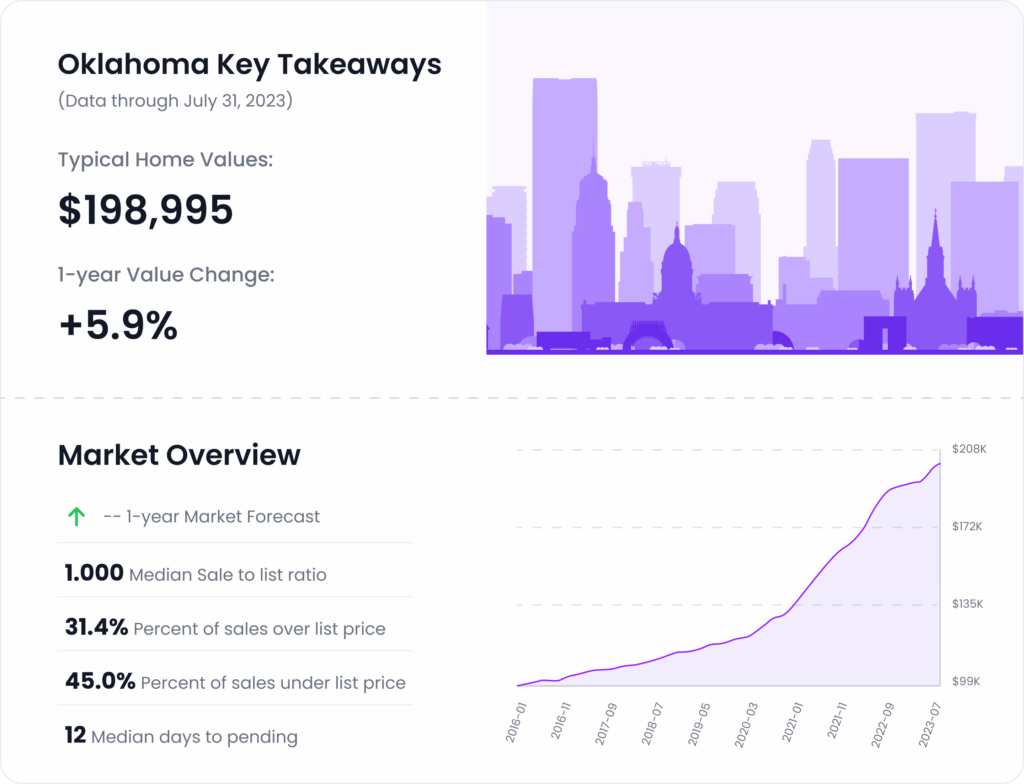 Over the past several years, home values have shown significant growth. Properties are moving quickly from listing to pending, indicating a fast-paced market. The sale-to-list ratio is balanced, with some properties selling over and under the list price. Predictions for the future continue this positive trend, suggesting that home values may continue to rise.
Here are the most recent housing market statistics from Zillow (July 31, 2023):
Typical home value is $198,995.
Increase of 5.9% year over year.
Home values have increased by 62.7% over the past 5 years.
Properties are going from listing to pending in 12 days (median).
The 1-year Zillow Market Forecast predicts home values will continue rising.
Unlocking Investment Potential: Real Estate Landscape in Oklahoma's Major Urban Centers
Larger cities can attract rental property investors due to their high population density and diverse economies, which often ensure steady demand for housing. The variety of amenities and services these urban areas offer also widen their appeal to potential tenants.
Here are some of the best cities to consider for investment opportunities in single-family rentals, small multifamily residences, and vacation rental properties.
Population details are provided by Data USA, while Zillow supplies the current home values as of July 2023. Median rent prices for three-bedroom properties, as reported by Zumper, also reflect data from July 2023.
Oklahoma City (OKC)
Nestled in the heart of the state, the Oklahoma City metropolitan area is a bustling hub of activity. It's home to a diverse population and a thriving economy, and has seen consistent growth over the years. With its mix of urban appeal and suburban tranquility, the Oklahoma City real estate market has a wide variety of investment opportunities.
Population: 1,400,000
Change in population (since 2020): 1.0%
Home value: $199,133
Change in home values (5-year): 57.9%
Median rent: $1,499
Rent change (year over year): 0.0%
Tulsa
Situated in northeastern Oklahoma, Tulsa is a distinctive blend of traditional and modern. Its real estate market, particularly noted for its unique Art Deco architecture, offers a diverse array of opportunities for investors seeking both character and growth potential. The economy is vibrant and diverse, with several thriving sectors such as energy, aerospace, finance, and manufacturing.
Population: 966,100
Change in population (since 2020): 0.6%
Home value: $195,024
Change in home values (5-year): 67.5%
Median rent: $1,350
Rent change (year over year): -3.0%
Norman
Norman is a city known for its vibrant arts scene, rich history, and its status as the home of the University of Oklahoma. Located in central Oklahoma, the economy is robust and diverse. Key sectors include education, healthcare, and public administration.
Population: 124,086
Change in population (since 2020): 1.0%
Home value: $243,936
Change in home values (5-year): 44.5%
Median rent: $1,463
Rent change (year over year): -2.0%
Broken Arrow
Broken Arrow is known for its strong sense of community and high quality of life. It's one of the largest suburbs of Tulsa, offering a blend of small-town charm and big-city amenities. The city boasts a mix of industries such as manufacturing, retail, and healthcare, and it's also home to a number of major employers.
Population: 108,875
Change in population (since 2020): 0.4%
Home value: $266,888
Change in home values (5-year): 66.0%
Median rent: $1,660
Rent change (year over year): 1.0%
Edmond
Situated just north of Oklahoma City, Edmond is known for its excellent schools, safe neighborhoods, and vibrant economy. It's often recognized as one of the best places to live in Oklahoma. The city's economy is diverse, with sectors such as education, healthcare, retail, and professional services playing significant roles. Edmond is home to the University of Central Oklahoma, which attracts students from across the country and contributes to the local economy.
Population: 93,101
Change in population (since 2020): 1.2%
Home value: $336,532
Change in home values (5-year): 46.4%
Median rent: $1,750
Rent change (year over year): 0.0%
Beyond the Mainstream: Secondary Cities Offering Lucrative Real Estate Options in Oklahoma
A secondary real estate market refers to cities or regions that, while smaller than primary markets, still present viable opportunities for investment. Some investors prefer these markets for rental properties as they often offer less competition and potentially higher yields. Additionally, these markets can provide a more stable and predictable cash flow, driven by local residents rather than transient populations.
Investors eyeing an affordable entry into the Oklahoma real estate market might find their perfect starting point in these 12 smaller yet promising cities and towns:
Lawton
Moore
Midwest City
Enid
Stillwater
Owasso
Bartlesville
Muskogee
Shawnee
Bixby
Jenks
Yukon
Oklahoma: A Strategic Choice for Foreign Nationals in Real Estate Investing
In conclusion, Oklahoma presents a compelling opportunity for foreign nationals seeking to invest in the US real estate market. However, to better navigate this market, we always recommend having a well-rounded team of professionals.
Working with an investor-friendly real estate agent can make the whole process a lot smoother. A good realtor can provide invaluable insights into local trends and opportunities, helping you make informed decisions. Furthermore, a local property management company can ensure your investment is well-cared for, maximizing its potential returns.
Lastly, securing appropriate financing is a key step in the investment process. Lendai, with its innovative financing digital solutions, streamlines this often complex process for foreign investors. With our unique AI algorithms and online platform, we aim to simplify and expedite the US financing journey, making US residential real estate investment more accessible for foreign nationals.
Remember, the goal is not just to invest, but to invest wisely. By leveraging local expertise, effective property management, and efficient financing solutions like those offered by Lendai, foreign investors can better navigate the Oklahoma real estate market.