Pennsylvania's real estate market is gaining popularity among investors, especially those looking for a single-family rental property with the potential for cash flow and Airbnb investment property. With its stable economy, affordable property prices, and increasing demand, the state offers a wide range of investment opportunities for both domestic and foreign investors.
However, before diving into the market, it's crucial to have a comprehensive overview of the state's housing market and understand the options for financing real estate in the US. This guide will provide a detailed overview of what real estate investors need to know about Pennsylvania, including the potential for single-family properties and Airbnb investments.
We'll also highlight the top cities for investment and give a glimpse of that state's real estate statistics and trends, providing the information necessary to help make informed decisions and take advantage of the many investment opportunities available in this promising state.
What Real Estate Investors Need To Know About Pennsylvania
Pennsylvania boasts a population of nearly 13 million, with Philadelphia being the most populous city in the state. The state has a workforce of over 5.9 million, with the healthcare, education, and retail industries among the major employers. The Keystone State also has a diverse population, making it an attractive destination for foreign investors.
Pennsylvania's stable and growing economy makes it a tempting target for real estate investors. Its GDP is $947.6 billion, and it ranks as the 18th largest economy in the world. The state has continued to draw investors due to its business-friendly environment, providing a favorable climate for businesses to thrive.
Pennsylvania offers foreign investors a good investment climate and a desirable lifestyle. Known as the birthplace of the United States, the state is renowned for its rich history and cultural landmarks such as the Liberty Bell, Gettysburg, and world-class museums. Philadelphia and Pittsburgh offer vibrant entertainment options. The state's natural beauty is unmatched, with over 120 state parks and the Pocono Mountains boasting year-round outdoor activities such as hiking, camping, and skiing.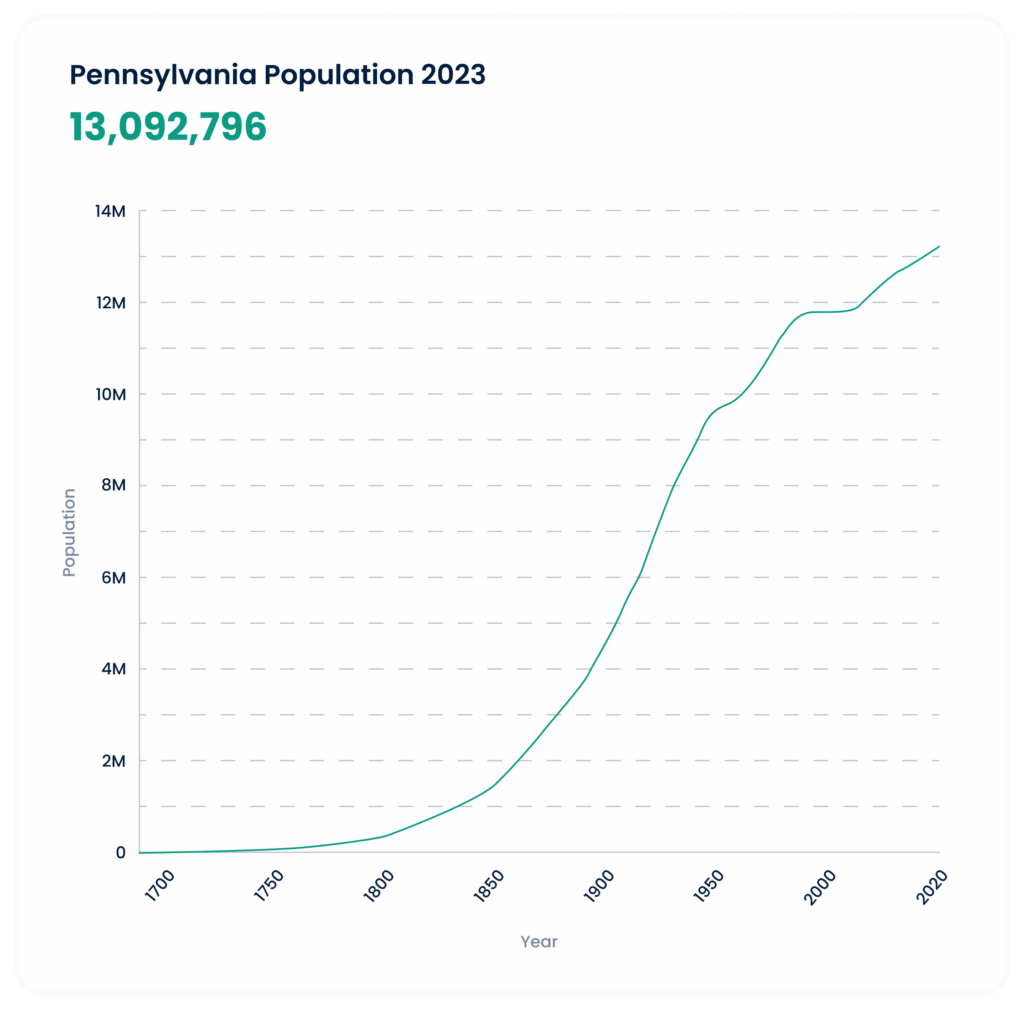 Population
According to the most recent census, Pennsylvania is home to 12,972,000 residents and more than 5,770,000 households.
Philadelphia (nicknamed Philly) is the largest city by population, and Harrisburg is the state capital.
The state is the fifth most populous in the US and ranks ninth in population density.
Pittsburgh, Allentown, Reading, and Erie are the most populous cities besides Philly.
The median age is 40.9, a little higher than in the US.
Per capita income is $38,315, and median household income is $68,957, both figures about the same as the US.

Economy
GDP is $947.6 billion and has increased by about 46% over the last ten years.
The state has a GDP equal to Turkey plus the Canary Islands, partly due to the state's coal production.
Key industry sectors include advanced manufacturing, energy production and transition, distribution and logistics, plastics and chemicals, life sciences and medical technology, and robotics and AI.
The unemployment rate is 4.4% and is near all-time lows, according to the US Bureau of Labor Statistics (BLS).
The top 10 largest non-governmental employers in Pennsylvania are Wal-Mart, Trustees of the University of PA, Giant Food Stores LLC, Pennsylvania State University, United Parcel Service Inc, UPMC Presbyterian Shadyside, Amazon, PNC Bank, University of Pittsburgh, and Lowe's Home Centers.
The largest colleges and universities are Pennsylvania State, Temple University, the University of Pittsburgh, and the University of Pennsylvania.
21% of the residents have a bachelor's degree, while 14% hold a post-graduate degree.
Transportation infrastructure includes 120,000 miles of highway, 6 international airports, and over 60 railroads, with port access to the Atlantic Ocean, Great Lakes, and Gulf of Mexico.
Pennsylvania Real Estate Statistics & Trends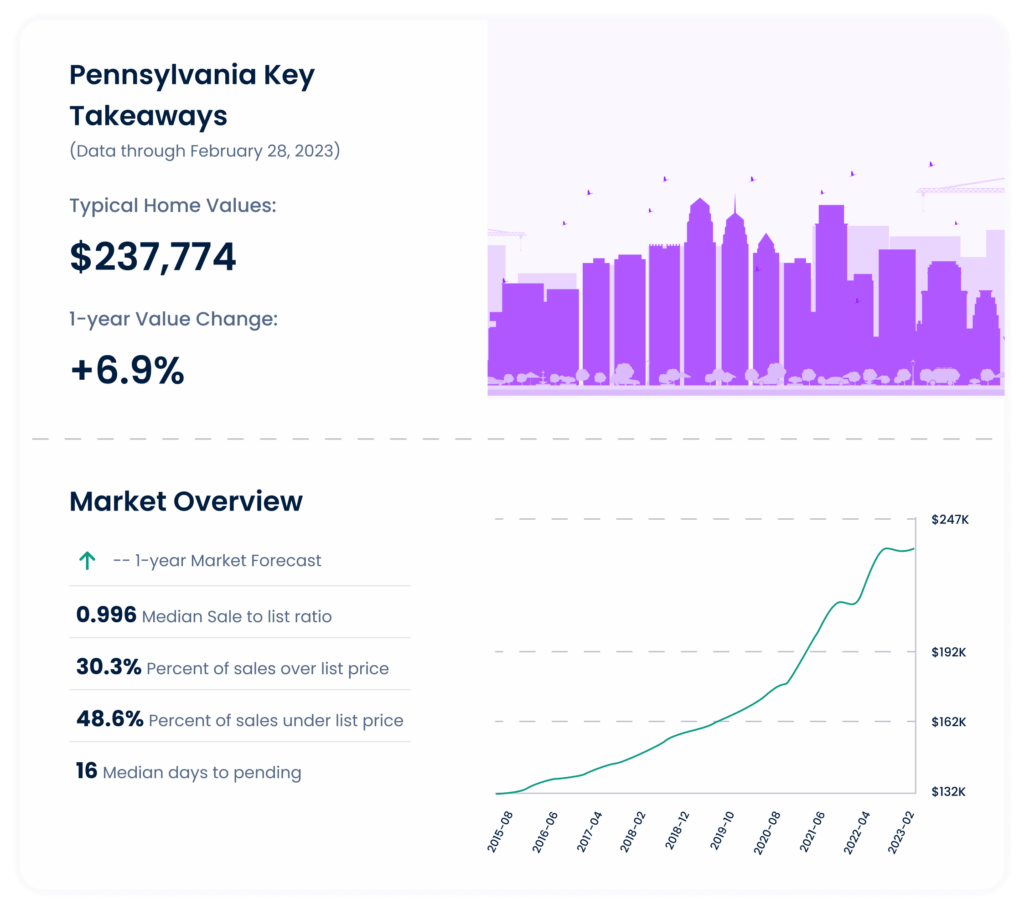 The current state of the real estate market is strong, with a growing trend in home values. Homes in the state typically sell quickly, with many going above the asking price, although some sell for less than the original listing price. While the market is competitive, buyers can still find good deals by working with a realtor and getting loan pre-approval.
Here are the most recent housing market statistics, according to Zillow (February 28, 2023):
The typical home value is $237,774.
Increase of 6.9% year over year.
Home values in PA have increased by about 67% over the past eight years.
Homes go under contract in 16 days (median) after being listed for sale.
Over 30% of homes sell for over the list price, while nearly 49% sell for less than the original listing price.
5 Cities for Pennsylvania Real Estate Investment
Here are five cities to consider for investment real estate in Pennsylvania. Population data is from Data USA, most recent home values are from Zillow (February 2023), and median rent prices for 3-bedroom homes are from Zumper (April 2023).
Philadelphia
Philadelphia is the largest city, located in the southeastern part of the state. Philly is known for its rich history, extensive arts and culture scene, and bustling economy, making it an attractive destination for real estate investors.
Population: 6,090,000
Change in the population (since 2020): 0.22%
Home value: $209,253
Change in home values (5-year): 45.3%
Median rent: $1,800
Rent change (year over year): 0.0%
Pittsburgh
Pittsburgh is located in the southwestern part of the state and has emerged as a prominent destination for tech companies, finance, and healthcare industries. The city is a center for education with numerous universities and cultural landmarks, making it a dynamic option for investment in real estate.
Population: 2,320,000
Change in the population (since 2020): -0.30%
Home value: $212,413
Change in home values (5-year): 47.8%
Median rent: $1,700
Rent change (year over year): 3.0%
Allentown
Allentown is the third-largest city, located in the state's eastern region. The city has undergone significant development in recent years. It offers investors opportunities to capitalize on the growth in manufacturing and healthcare industries, in addition to being a regional transport hub.
Population: 841,265
Change in the population (since 2020): 0.44%
Home value: $246,430
Change in home values (5-year): 56.8%
Median rent: $1,898
Rent change (year over year): 3.0%
Reading
Reading is in the eastern part of the state, often called the "Gateway to Pennsylvania's Americana Region." As a transportation and business hub, real estate investors may find great potential for growth and ROI.
Population: 419,062
Change in the population (since 2020): 0.25%
Home value: $212,228
Change in home values (5-year): 200.0%
Median rent: $1,300
Rent change (year over year): -18.0%
Erie
Erie is situated in the state's northwestern corner, close to the border with Ohio. The city offers a diverse economy with significant business opportunities in healthcare, manufacturing, and tourism, making it a market for real estate investors to watch.
Population: 272,046
Change in the population (since 2020): -0.65%
Home value: $157,212
Change in home values (5-year): 41.9%
Median rent: $1,150
Rent change (year over year): -18.0%
10 More Housing Markets for Investment
Investing in smaller cities can offer investors unique opportunities. These cities may have more affordable housing prices, growing economies, and potential for significant returns due to untapped investment opportunities. Additionally, investing in these smaller cities may provide an early entry into a promising market with good room for growth. Here are 10 to consider, listed by population:
Scranton
Bethlehem
Lancaster
Levittown
Harrisburg
Lehigh
Wilkes-Barre
York
Altoona
State College
Conclusion: Pennsylvania Real Estate Market
The Pennsylvania real estate market has seen significant growth in recent years and is a popular destination for home buyers and property investors alike. With average property prices below the national average, potential buyers may see higher returns on their investments than those available around other areas of the country.
With an experienced lender and a reliable property management team, investing in Pennsylvania real estate can be a smart choice for anyone looking to invest in US real estate. Compared to popular markets such as New York, the state offers unique opportunities for long-term returns on investment that are hard to beat.