South Carolina, fondly known as the Palmetto State, presents a compelling narrative for real estate investors around the globe. A narrative woven with opportunities in the long-term rental market and punctuated by the allure of Airbnb vacation rentals. It's a story of growth, diversity, and potential that beckons foreign investors to its shores.
The state's beauty lies not merely in its picturesque landscapes but in the diversity of its real estate market. Each locale offers unique opportunities for those seeking to expand their portfolios from vibrant cities to tranquil coastal towns.
As we navigate the intricacies of investing and financing rental property, we aim to provide you with a comprehensive roadmap tailored to guide foreign investors through the promising landscape of South Carolina real estate.
Population and Job Growth
The state has seen a significant increase in population and job opportunities, making it an attractive location for real estate investors. This growth is driven by a combination of factors, including a strong economy, diverse industries, and an influx of residents moving for the quality of life.
The population has been steadily increasing, resulting in a heightened demand for housing. Growth is concentrated in major cities and spread across smaller towns, contributing to a balanced and sustainable development across the state.
On the job front, South Carolina boasts a robust and growing job market. Industries such as manufacturing, healthcare, and technology are flourishing, creating a wide range of employment opportunities. This economic growth has further fueled the state's population increase as more people are relocating for work.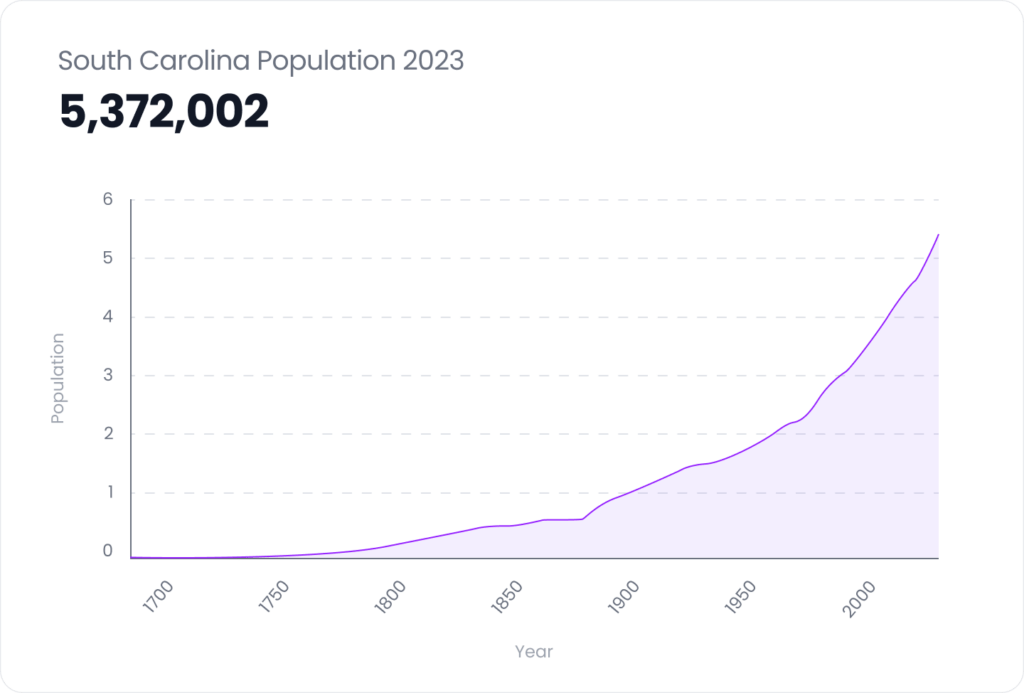 Population
South Carolina is the 23rd most populous state in the US and is home to nearly 5.3 million, as reported by the Census Bureau.
Population has increased by more than 14% since 2010.
North Carolina borders the state to the north, Georgia to the south and west, and the Atlantic Ocean to the east.
This strategic location contributes to its population growth, offering diverse economic opportunities and access to a variety of recreational activities.
The state government predicts the population will grow to over 5.8 million by 2035.
Median age is 40.2, with 50% of the population between the age of 20 and 59.
Per capita income is $33,339, and median household income is $59,318, both figures a little lower than the national average.

Economy
GDP is more than $228.3 billion, soaring by 17% since 2020, according to the St. Louis Federal Reserve.
Key industry sectors are advanced manufacturing, advanced materials, aerospace, agribusiness, automotive manufacturing expansion, distribution and logistics, and elective vehicle manufacturing.
Unemployment rate is 3.1% (as of May 2023), with employment growing by 1.4% year over year.
Largest companies headquartered in South Carolina (by employment) are ZF Group, Michelin, Schaeffler Group, Techtronic Industries, and Commonwealth.
The state provides various, including low property tax and no local income tax.
Realtor.com lists South Carolina as home to two of the best housing markets for this year based on the combined yearly percentage growth in both home sales and prices expected.
Some of the largest real estate markets in the state – including Greenville and Columbia – have more households occupied by renters than owners.
About 90% of the residents are high-school graduates, while less than 32% hold a bachelor's degree or an advanced degree (a figure lower than the US average).
The three largest colleges and universities are the University of South Carolina – Columbia, Clemson University, and Coastal Carolina University.
Transportation infrastructure is robust, featuring major interstates like I-26, I-20, and I-95, airports such as Charleston International (CHS) and Greenville-Spartanburg International (GSP), and seaports including the Port of Charleston.
Home Price Stats and Trends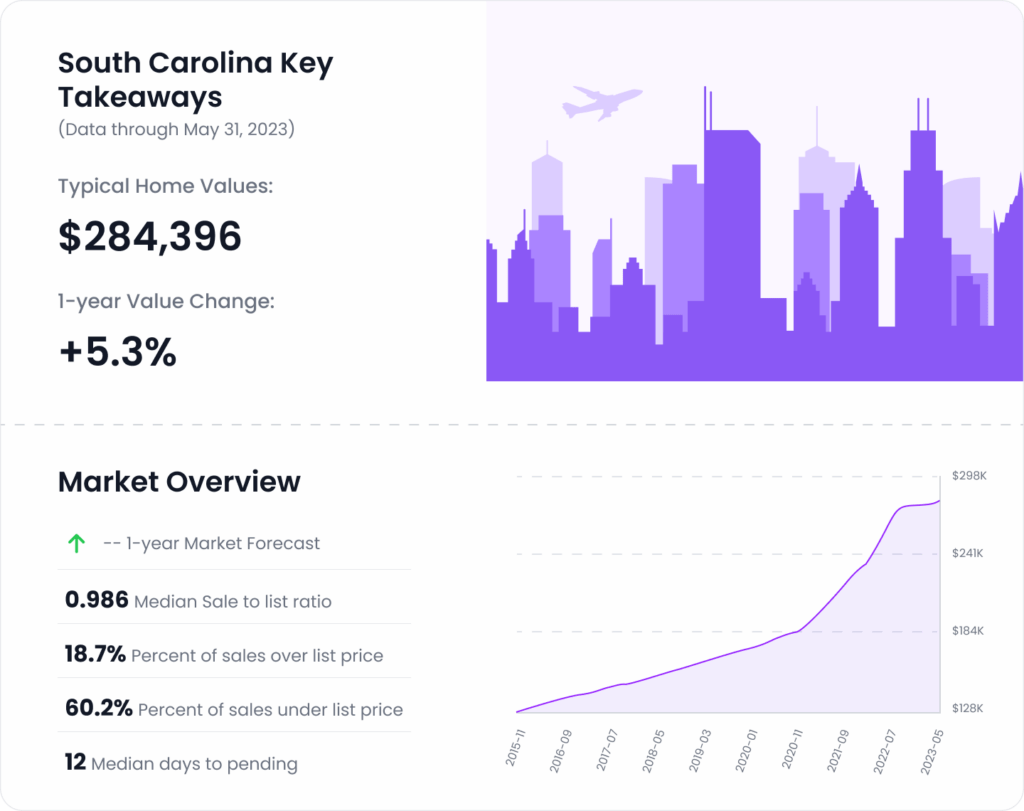 The housing market is currently experiencing a period of consistent growth, with values steadily increasing. This positive trend has been sustained over the past five years and shows no signs of slowing down in the near future. The pace at which properties are being snapped up is a testament to the state's appeal, with homes typically going from listing to pending in a very short time frame.
This dynamic presents a compelling opportunity for investing in rentals. The continual rise in home values indicates strong demand and potential for solid returns on investment. Additionally, the relatively quick turnaround from listing to pending suggests a high level of interest in the area, which could translate into consistent demand.
Here are the most recent housing market statistics from Zillow (June 30, 2023):
Typical home value is $288,816.
Increase of 3.9% year over year.
Home values in SC have increased by 64% over the past five years.
Properties are going from listing to pending in 11 days (median).
The 1-year market forecast from Zillow is for values to continue rising.
Location Spotlight: The Largest and most sought-after Cities in South Carolina for Investment Property
Many investors are attracted to such large cities due to their high populations, offering a steady stream of potential tenants, and the vibrant urban lifestyle that draws a diverse range of renters.
Consider these top five densely populated markets for investing in single-family rentals, small multifamily residences, and condominiums. The population data is retrieved from Data USA, while the current home valuations, as of June 2023, are provided by Zillow. The median rental rates for three-bedroom properties, reported by Zumper in July 2023, also factor into the analysis.
Greenville
Located halfway between Atlanta and Charlotte, Greenville is a thriving city with a robust property market. With a strong economy, vibrant downtown, and high quality of life, nearly 60% of homes are renter-occupied. This makes it an attractive location for investors seeking to tap into the rising demand for rental properties.
Population: 908,680
Change in population (since 2020): 1.4%
Home value: $295,952
Change in home values (5-year): 58.2%
Median rent: $1,850
Rent change (year over year): 4.0%
Columbia
Columbia is the state capital and a city rich in history and culture, offering a mix of educational institutions, historical landmarks, and a vibrant lifestyle. This diversity, combined with the presence of the state's flagship University of South Carolina, contributes to over half of the city's households being renter-occupied, presenting an appealing market for rental property investment.
Population: 832,925
Change in population (since 2020): 1.0%
Home value: $224,468
Change in home values (5-year): 60.6%
Median rent: $1,625
Rent change (year over year): 7.0%
Charleston
Charleston is renowned for its rich history, well-preserved architecture, and distinguished restaurant scene. It's a significant tourist hub with numerous historical attractions and the largest container seaport in the region. The area boasts a blend of city life with coastal charm, including beautiful beaches like Folly Beach and the Isle of Palms.
Population: 790,955
Change in population (since 2020): 2.1%
Home value: $521,559
Change in home values (5-year): 55.7%
Median rent: $2,800
Rent change (year over year): 17.0%
Myrtle Beach
Located on the east coast of South Carolina, Myrtle Beach is a popular resort city known for its 60-mile string of beaches, golf courses, and boardwalk featuring arcades, souvenir shops, and restaurants. The city also offers various family attractions such as the SkyWheel, one of the country's tallest Ferris wheels, Ripley's Aquarium, and Broadway at the Beach, a sprawling outdoor entertainment center.
Population: 481,489
Change in population (since 2020): 3.8%
Home value: $303,582
Change in home values (5-year): 67.7%
Median rent: $1,430
Rent change (year over year): -8.0%
Spartanburg
Nestled in the northwestern part of South Carolina, Spartanburg is a charming city known for its unique blend of urban and suburban living. It sits strategically in "The Upstate," offering easy access to major cities like Columbia and Charlotte. Known for its thriving downtown area, top-rated schools, and recreational amenities, Spartanburg is an appealing destination for families and young professionals alike, with 50% of its households being renter-occupied.
Population: 313,791
Change in population (since 2020): 2.0%
Home value: $211,008
Change in home values (5-year): 66.7%
Median rent: $1,550
Rent change (year over year): -6.0%
Smaller South Carolina Cities for Real Estate Investing
Investment strategies in real estate can vary significantly based on an investor's goals and risk tolerance. While some investors are drawn to the hustle and bustle of larger cities, others see value in smaller markets. These smaller cities or towns often offer lower property prices, less competition, and higher potential for property value growth.
Here are eight smaller cities in South Carolina to consider:
Rock Hill
Summerville
Goose Creek
Greer
Sumter
Lexington
Hilton Head Island
Florence
Exploring South Carolina: A Gateway to Real Estate Investments
South Carolina, a state known for its scenic landscapes and vibrant cities, offers a wealth of investment opportunities. Its real estate market has a diverse range of properties, from Charleston and Columbia's bustling urban centers to charming smaller markets like Spartanburg. The state's stable economy, growing population, and high rental demand make it an attractive option for rental property investments.
Building a local team is crucial when investing in the US real estate market, particularly for foreign investors. This team should include a knowledgeable real estate agent familiar with the local market, a reliable property manager overseeing the rental property's day-to-day operations, and a lender who specializes in working with foreign investors.
Lendai understands foreign investors' unique challenges in securing financing for US properties. We leverage technology and AI to streamline the financing process, providing competitive rates and a hassle-free experience from the comfort of your home country.