Did you know that Ohio has 25 Fortune 500 companies headquartered within its borders? As a foreign investor, this fact alone should capture your attention.
Situated in the Midwest region of the United States, Ohio – also known as the Buckeye State – offers a unique opportunity to invest in rental properties and generate solid cash flow. With its strong economic foundation, low cost of living, and growing cities, Ohio is an attractive destination for investing in single-family homes, condos, and vacation rental properties.
In this blog post, we'll look at the key features of this state and provide actionable insights into the world of real estate investing in this promising region. From exploring the major cities that drive the economy, to understanding the latest trends in the housing market, we'll equip you with the knowledge you need to make informed decisions for buying and financing rental property.
Population and Job Growth
Ohio is experiencing steady growth, driven by its diverse economy and strategic location. Its robust economic foundation is built on a mix of industries, such as manufacturing, healthcare, finance, and logistics. This economic diversity has helped the state maintain stability during economic downturns and attract new residents seeking employment opportunities.
The state's commitment to fostering business growth and innovation has led to the creation of a favorable environment for job seekers. Ohio's pro-business policies, skilled workforce, and access to major markets have attracted numerous companies to establish or expand their operations within the state.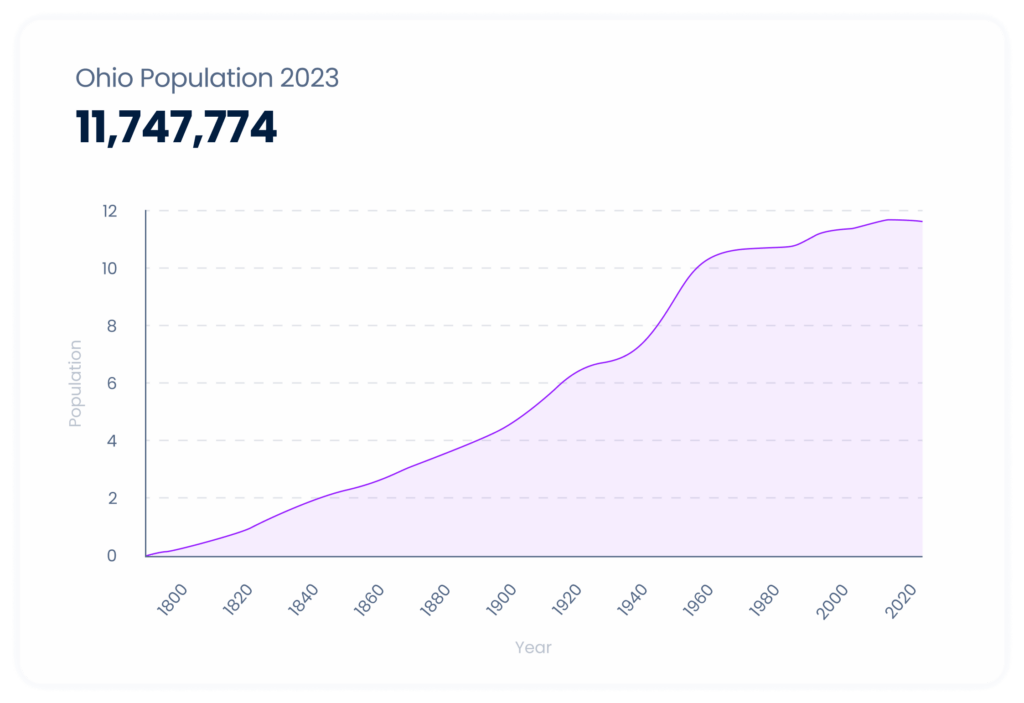 Population
The state is home to nearly 11.8 million, making it the seventh most populous in the country.
Population has grown by about 2% between 2010 and 2022, with a moderate growth rate indicating stability and sustainability in the region.
Median age is 39.6, about the same figure as the US.
Per capita, income is $35,199 while median household income is $62,262, both figures about 90% of the amount in the US.
More than 50% of the homes are occupied by renters in cities including Columbus, Cincinnati, and Cleveland, according to a report on Cleveland.com.

Economy
GDP has grown by over 50% since 2012 and currently stands at $822.7 billion.
Cost of living is 11% lower than the national average, based on research from RentCafe.
Unemployment rate is 3.7%, the same rate as the US.
Target industry sectors include advanced manufacturing, automotive, energy and chemicals, healthcare, logistics and distribution, military, and federal government.
Top 5 companies by total employment are Walmart Stores, Cleveland Clinic Foundation, Kroger, Amazon, and Ohio State University and Medical Center.
Nearly 92% of residents are high school graduates, while 31% hold a bachelor's or an advanced degree.
Home to prestigious universities and colleges, such as The Ohio State University, Case Western Reserve University, Miami University, University of Cincinnati, and Oberlin College.
The state provides easy access to major markets such as Chicago, New York City, Washington D.C., and Toronto.
Transportation infrastructure includes key interstate highways like I-70, I-71, I-75, and I-80 (Ohio Turnpike); major airports such as Cleveland Hopkins International Airport and John Glenn Columbus International Airport; and major freight railroads such as CSX and Norfolk Southern.
Ohio Real Estate Market Statistics & Trends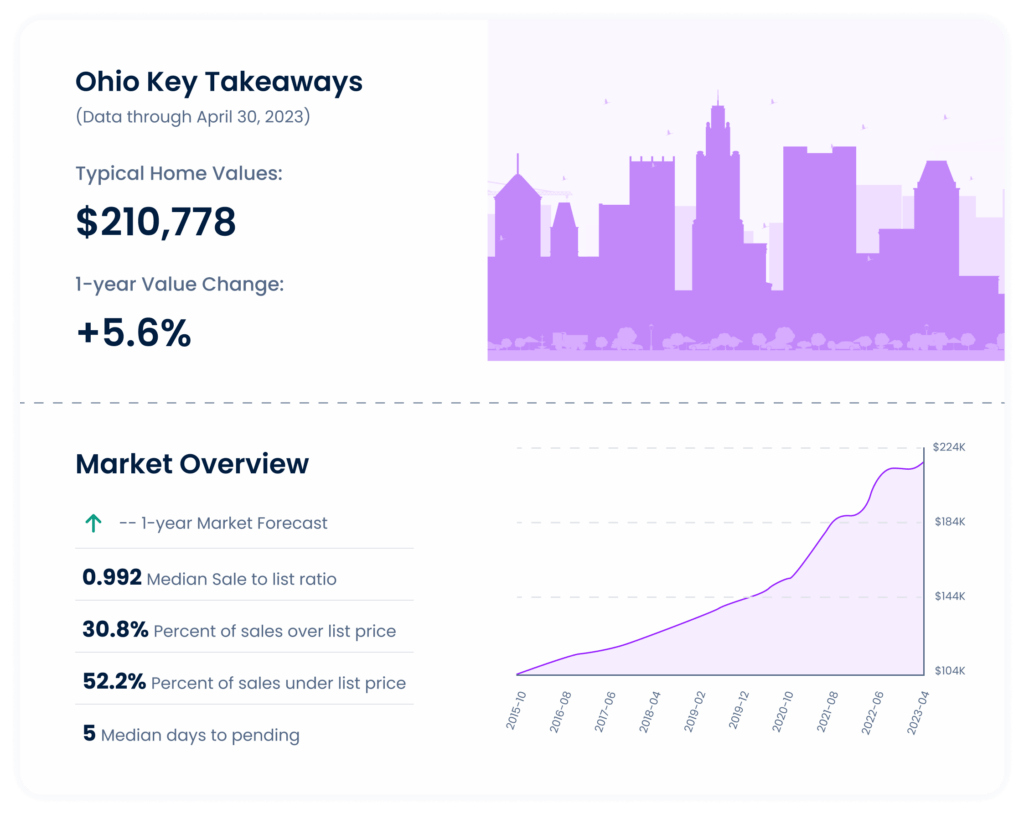 Current market trends indicate a favorable environment for investors seeking rental property opportunities. The steady growth in home values reflects a healthy real estate market with potential for long-term appreciation.
Many homes sell below the original listing price. However, a significant portion still fetches above the asking price, indicating a competitive market with room for negotiation.
Furthermore, the relatively short time from listing to going under contract suggests a strong demand for properties. This trend could bode well for occupancy rates and consistent rental income.
Here are the most recent housing market statistics, according to Zillow (April 30, 2023):
Typical home value is $210,778.
Increase of 5.6% year over year.
Home values have increased by nearly 54% over the past 5 years.
Homes go under contract 5 days (median) after being listed for sale.
Zillow forecasts an increase in Ohio home prices over the next year.
Prime Investment Opportunities: Unveiling Ohio's Housing Markets
Here are five markets to consider for investing in rental property in Ohio. Population figures are from Data USA, home values are from Zillow (April 2023), and median rent prices for 3-bedroom properties are based on research by Zumper (June 2023).
Columbus
Columbus, in central Ohio, boasts a diverse economy and robust job market. The state capital is known for its lively culture and growth in sectors like technology, healthcare, and education.
Population: 2,100,000
Change in the population (since 2020): .0.28%
Home value: $240,398
Change in home values (5-year): 65.5%
Median rent: $1,725
Rent change (year over year): 5.0%
Cincinnati
Cincinnati lies along the Ohio River in the southwestern part of the state. This historic city has a revitalized urban core, flourishing suburbs, major corporations, and ongoing economic development initiatives.
Population: 2,210,000
Change in the population (since 2020): 0.57%
Home value: $229,239
Change in home values (5-year): 53.5%
Median rent: $1,598
Rent change (year over year): 7.0%
Cleveland
Located on Lake Erie's southern shore in northeastern Ohio, Cleveland is undergoing an urban renaissance. Key investments in healthcare, technology, and manufacturing industries contribute to its economic growth.
Population: 2,050,000
Change in the population (since 2020): -0.18%
Home value: $101,211
Change in home values (5-year): 78.2%
Median rent: $1,187
Rent change (year over year): 8.0%
Dayton
Dayton is situated in western Ohio and boasts a rich industrial past. The city now emphasizes innovation in aerospace, defense, and advanced manufacturing, while also fostering a growing cultural scene.
Population: 813,500
Change in the population (since 2020): -0.09%
Home value: $108,403
Change in home values (5-year): 86.9%
Median rent: $1,100
Rent change (year over year): 12.0%
Akron
Akron, nestled in the state's northeastern corner, is an emerging city with a diverse economy. Its healthcare, education, and manufacturing sectors coexist alongside its historical rubber industry.
Population: 703,300
Change in the population (since 2020): -0.08%
Home value: $112,685
Change in home values (5-year): 65.1%
Median rent: $1,095
Rent change (year over year): 6.0%
10 Small Cities for Ohio Real Estate Investors
Investing in smaller cities can offer several potential benefits for investors seeking rental properties. These areas often have lower property prices, translating to a more affordable initial investment. Additionally, smaller cities may experience less competition in the rental market, leading to higher occupancy rates and more stable rental income.
As these communities grow and develop, they may also present opportunities for property appreciation over time. By carefully selecting locations with promising economic prospects and a growing population, investors could capitalize on the unique advantages that smaller cities provide.
Here are 10 small cities and towns to consider for rental property investments:
Toledo
Youngstown
Canton
Hamilton
Springfield
Mansfield
Lima
Elyria
Middletown
Newark
Leveraging Expertise for Successful Real Estate Investments
Foreign nationals interested in the Ohio real estate investing should prioritize partnering with an experienced realtor who is well-versed in the local market dynamics and can navigate any potential challenges. Additionally, they can provide valuable insights into the property's potential for appreciation, rental demand, and neighborhood growth prospects.
Another crucial aspect is selecting a solid local property manager and a specialized lender. A reliable property manager is essential for maintaining your investment property, handling tenant relations, and ensuring consistent rental income.
Choosing a lender who specializes in providing US financing for foreign investors will streamline the process of securing a loan, as they understand the unique challenges and requirements that come with international investments. By assembling a strong local team and making informed financial decisions, foreign nationals can potentially maximize their potential returns on their Ohio real estate investments.