Buying a condominium can be an exciting opportunity and a great way to diversify your portfolio. Still, it's important to understand all the potential pros and cons that come along with this type of investment property.
Although condos provide certain benefits like better amenities, more convenient access to cities, and less responsibility for maintenance, there are also inherent risks associated with investing in them.
In this post, we'll explore some common pros and cons of investing in condos so that you can make an informed decision about whether owning such a property could be right for you
Are Condos a Good Investment?
In recent years, condos have become increasingly popular as a real estate investment option for both experienced investors and first-time buyers. They are much more affordable than single-family homes and offer investors several benefits. Among these benefits are the potential for a stable income stream from rental income, the ability to use leverage to increase returns, and the potential for appreciation over time.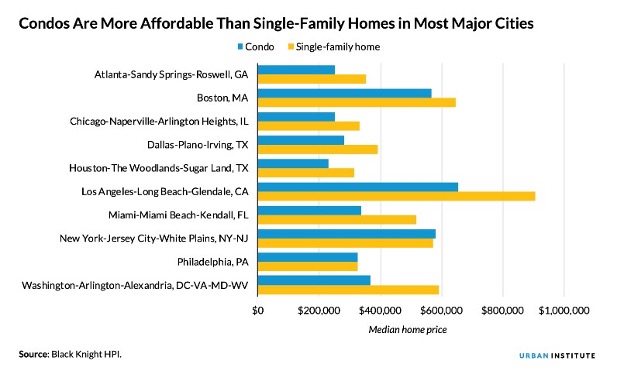 Source: https://www.urban.org/urban-wire/housing-market-needs-more-condos-why-are-so-few-being-built
When deciding whether or not condos are the right fit for their real estate investment portfolio, investors must consider their specific goals and objectives. Factors such as location, budget, monthly fees, tenant demographics, and potential cash flow should all be considered when determining an appropriate property purchase.
It is also important to research the local market conditions to understand how condo prices may change over time. By carefully analyzing these factors, investors can make a more informed decision about which type of property best suits their goals.
Pros and Cons of Condo Investing
Condo investing has become a popular choice for real estate investors looking for an affordable and potentially rewarding investment opportunity. While there are many advantages to investing in condos, it is important to weigh the pros and cons of condo investing before committing to this type of venture.
The pros of condo investing include the following:

The potential for a stable income stream from renters.
Low maintenance costs compared to single-family homes.
Easier access to lender financing due to lower purchase prices.
Greater flexibility in terms of tenant demographics.
A relatively quick return on initial investments.
The possibility of appreciation over time.
Conversely, there are also some downsides associated with condo homeownership that should be considered. These include:
Increased competition among investors may make acquiring condos at competitive prices difficult.
Limited control over neighboring tenants due to shared walls and common areas.
Additional fees, including HOA (Homeowner's Association) dues and other special assessments.
Limited customization opportunities due to strict rules enforced by Homeowner's Associations.
Potentially long waiting periods for the approval of repairs or renovations.
Possibility of costly legal action due to shared rules within the building.
By considering both the pros and cons outlined above, investors can make a more informed decision about whether or not condo investing is right for them.
Condos vs. Single-Family Homes
Condos, or condominiums, are a type of real estate that allows for ownership of individual units in a larger building or complex. This type of property is becoming increasingly popular among new and experienced investors due to its numerous advantages. Compared to other real estate investment opportunities, condos can offer many benefits that single-family homes cannot.
The primary difference between condos and single-family homes lies in the ownership structure. While a single-family home is owned by one individual or group, units in a condo community are owned by multiple individual condo owners who share common areas such as lobbies, courtyards, gyms and fitness centers, tennis courts, and other public amenities.
Additionally, condo investments may have additional fees associated with them, such as HOA fees or special assessments that could increase costs for an investor. Special assessments in a condominium development can include fees for repairs and maintenance, upkeep, parking, landscaping, pest control, and other services.
These costs are usually approved by the condo association and managed by the HOA and can be charged periodically or assessed unexpectedly due to renovations or other services. It is important that investors take the time to research these fees before investing in condos, as they can increase their overall investment costs and should be factored into the budget.
When considering the various types of real estate investment opportunities available today, it is important to weigh both the pros and cons of each option before committing to one. Condo investing may be attractive due to its relatively low cost compared to single-family homes. Still, careful consideration should be given to all association fees, potential risks, and expenses beforehand.
With the proper due diligence, condo investing may be an attractive solution for those looking for an easy way to diversify their portfolio without taking on too much risk.
Cities Where Condos Are Hot
A recent article on Realtor.com explained why condos are the hottest thing in real estate in some cities. According to the report, with the rise in single-family home prices and low availability, more buyers are looking toward their less expensive cousins: condos and townhouses.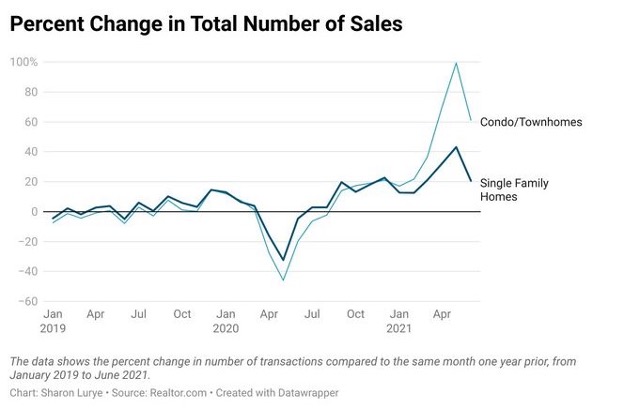 Source: https://www.realtor.com/news/trends/condos-are-back-the-cities-where-theyve-become-the-hottest-thing-in-real-estate/
In the past year, condo sales have skyrocketed as people look for a move-or-vacation getaway near the ocean or mountains. According to a Realtor.com® analysis of home sale data, there were twice as many condos sold in May 2021 than in May 2020.
These are the top 10 cities where condo prices are rising the most, six of which are in the state of Florida:
Destin, FL
Panama City, FL
Naples, FL
Park City, UT
Panama City Beach, FL
Aspen, CO
North Miami Beach, FL
Las Vegas, NV
Myrtle Beach, SC
Delray Beach, FL
Final Thoughts
Ultimately, investing in a condo could be an excellent option for those looking to diversify their portfolio or find an affordable second home. However, as with any real estate investment opportunity, investors must take the time to research and assess all aspects of the decision and speak with a real estate agent to determine if it is right for them.
Ultimately, whether or not condo investing is the right choice for any investor comes down to their individual goals and objectives. With careful consideration and research, investors can make an informed decision about whether investing in condos is the best way to reach their financial goals.