Nestled in the heartland of the United States, a hidden gem of real estate opportunities awaits. Missouri, the "Show-Me State," is gaining attention from foreign nationals looking to diversify their portfolios and capitalize on a market poised for growth.
But before diving in headfirst, it's crucial to understand the specific factors and data that influence the local real estate market.
In this blog post, we'll unveil the unique aspects of Missouri's property landscape that make it an attractive destination for international investment. From understanding market trends to identifying the top cities, we'll provide you with actionable insights to help you make a better and informed decision.
Population and Job Growth
A thriving economy and growing population are critical indicators of a healthy real estate market, and the state shows very positive trends in these areas. By understanding these dynamics, international investors can better assess the potential for long-term appreciation and rental demand when considering buying investment property in the state.
Over the years, the state has experienced steady population growth, driven by itstwo largest cities, Kansas City and St. Louis, which attract new residents with their robust job markets and affordable cost of living. Additionally, the diverse economy – powered by agriculture, manufacturing, and technology sectors – contributes to its resilience and job creation potential.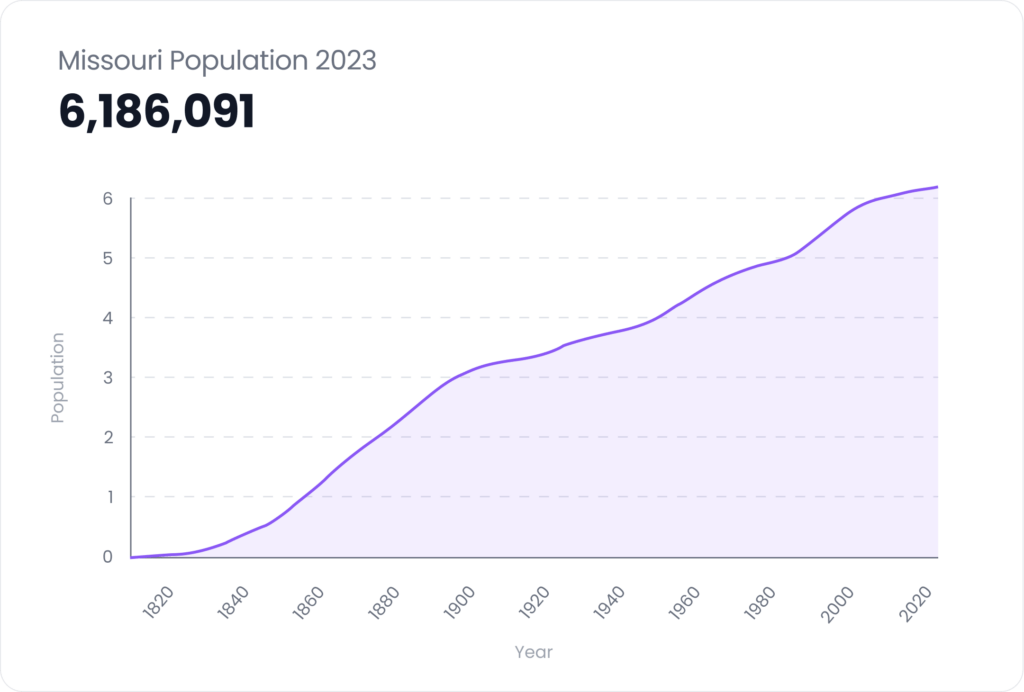 Population
Home to over 6.1 million, ranking as the 19th most populous state in the country.
Population has increased by 3.2% since 2010.
By 2030 the population is projected to reach 6.8 million, with a growth rate of about 21% since 2020.
Greater St. Louis is the largest metropolitan area, followed by Kansas City, Springfield, and Columbia.
The state is bordered by Iowa, Illinois, Kentucky, Tennessee, Arkansas, Oklahoma, Kansas, and Nebraska.
Median age is 39.2, about the same figure as the US.
Per capita income is $34,592 and median household income is $61,847, both figures about 90% of the amount in the US.

Economy
GDP is nearly $390 billion, soaring by 18% over the past two years alone, according to the St. Louis Fed.
St. Louis is ranked among the best cities for jobs by WalletHub, based on key metrics such as job opportunities, employment growth, and unemployment rate.
The state's unemployment rate is 2.5%, based on the most recent data from the US Bureau of Labor Statistics (BLS, May 2023).
Even though the state has the 4th lowest cost of living in the country, more than 50% of the households in some cities are renter-occupied.
Largest employers include Walmart, Mercy Health System, BJC Healthcare, Washington University, Boeing, Hy-Vee, Ford Motor Company, and Lowe's Home Centers.
Major industries are agriculture, aerospace, transportation equipment, chemicals, financial services, electrical equipment, publishing and printing, and manufacturing.
The largest colleges and universities are University of Missouri (Mizzou) in Columbia, Missouri State University in Springfield, and Saint Louis University in St. Louis.
About 32% of residents hold a bachelor's degree or an advanced degree, about 90% of the rate in the US, based on data from Census Reporter.
The state boasts an extensive network of highways, including key interstates such as I-70, I-44, and I-55, which connect to major cities like Chicago, Dallas, and Denver.
Missouri Real Estate Market Statistics & Trends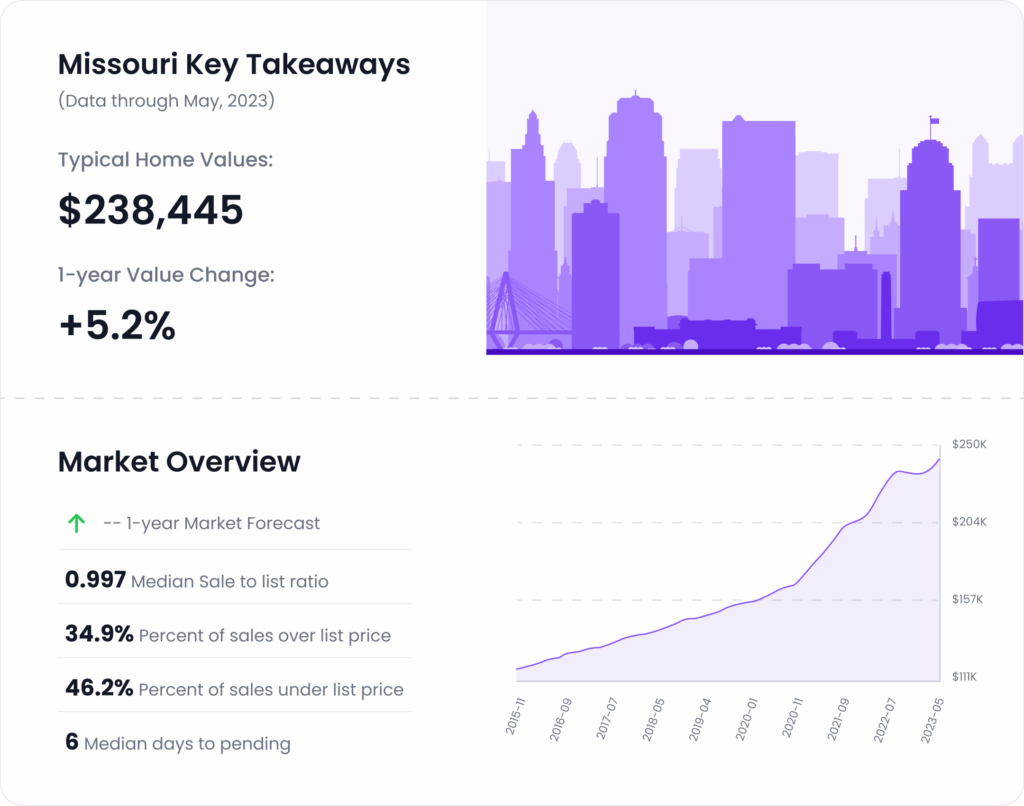 The market has been experiencing remarkable growth in recent years, making it an attractive destination for investors seeking long-term appreciation. The state's typical home value reflects a competitive market, with prices steadily rising. This upward trajectory can be attributed to factors such as population growth, job opportunities, and the overall affordability of living compared to other states.
The market's dynamism is further evidenced by the swift pace at which properties are sold, often within just a few days of being listed. This rapid turnover indicates strong demand from homebuyers and a competitive environment for buying properties.
On the other hand, there is still a considerable portion of sales occurring below the list price. This suggests that savvy investors may find opportunities to negotiate favorable deals.
Here are the most recent housing market statistics, according to Zillow (May 31, 2023):
Typical home value is $238,445.
Increase of 5.2% year over year.
Home values have increased by 58.9% over the past 5 years.
Properties are going from listing to pending in a median of 6 days.
Zillow forecasts home prices will continue to increase in Missouri over the next year.
Missouri's Property Picks: 5 Markets to Boost Your Real Estate Portfolio
Here are the five largest markets by population to consider for investing in single-family rents (SFRs), small multifamily properties, and condos. Population data is from Data USA, home values are from Zillow (May 2023), and median rent prices for 3-bedroom properties are from Zumper (June 2023).
St. Louis
Situated along the western bank of the Mississippi River in eastern Missouri, St. Louis is one of the state's largest and most vibrant housing markets. The city is well-known for its iconic Gateway Arch, which symbolizes the role St. Louis played in the westward expansion of the United States. The housing market here caters to a wide range of residents, with 56% of the city's households occupied by renters.
Population: 2,810,000
Change in population (since 2020): 0.04%
Home value: $166,804
Change in home values (5-year): 48.0%
Median rent: $1,743
Rent change (year over year): 25.0%
Kansas City
Kansas City, located on the state's western border and straddling the state line with Kansas, is another prominent housing market in the state. Known as the "City of Fountains," KC boasts an attractive blend of urban sophistication and Midwestern charm. The city offers a diverse range of neighborhoods, with a strong economy driven by sectors such as healthcare, finance, and technology.
Population: 2,140,000
Change in population (since 2020): 0.92%
Home value: $232,937
Change in home values (5-year): 54.5%
Median rent: $1,525
Rent change (year over year): 9.0%
Springfield
Often referred to as the "Queen City of the Ozarks," Springfield is located south of KC and St. Louis, and is known for its natural beauty, outdoor recreational opportunities, and lively downtown area. The city is home to Missouri State University, which contributes to a vibrant college-town atmosphere. A notable 58% of households are renter-occupied in Springfield, indicating strong rental demand.
Population: 466,900
Change in population (since 2020): 0.97%
Home value: $277,387
Change in home values (5-year): 95.5%
Median rent: $1,395
Rent change (year over year): 7.0%
Columbia
Located in the state's central region, Columbia is nicknamed the "Athens of Missouri," boasting a vibrant downtown area, beautiful parks, and plentiful recreational opportunities. A significant 53% of households are renter-occupied, showcasing the robust demand for rental properties, driven in part by students and faculty from the University of Missouri.
Population: 207,200
Change in population (since 2020): 0.92%
Home value: $291,708
Change in home values (5-year): 61.3%
Median rent: $1,350
Rent change (year over year): 19.0%
Independence
Independence, located just east of Kansas City, is a significant housing market with a rich historical background. The city offers a charming blend of historic sites, family-friendly attractions, and beautiful parks, contributing to a high quality of life.
Population: 117,100
Change in population (since 2020): 0.05%
Home value: $194,746
Change in home values (5-year): 53.7%
Median rent: $1,413
Rent change (year over year): 5.0%
Beyond Basics: Other 10 Emerging Missouri Cities for Smart Property Investments
In addition to the major metropolitan areas, the state offers numerous smaller cities with promising real estate investment opportunities. Some rental property investors choose to invest in less populated towns due to factors such as lower property acquisition costs, reduced competition, and stable rental demand from residents.
These smaller cities often provide a more affordable cost of living and a close-knit community atmosphere, which can be appealing to both renters and property owners alike. Here are 10 to consider:
Lee's Summit
O'Fallon
St. Charles
Blue Springs
St. Peters
Joplin
Florissant
Chesterfield
Wentzville
Jefferson City (the state capital)
Insights to Navigate Missouri's Real Estate Market
Missouri offers a diverse range of real estate investment opportunities, from bustling metropolitan areas like St. Louis and Kansas City to smaller cities with unique charms and growing rental markets. Some of the keys to successful investing lies in understanding the local market dynamics, rental demand, and potential for long-term appreciation.
For foreign nationals looking to invest in real estate, having a trusted team of professionals is crucial. This includes an investor-friendly agent with local expertise, an experienced property management company to ensure smooth operations, and a lender that specializes in providing financing for foreign investors.
By working with such a team, international investors can better navigate the intricacies of the US real estate market, secure favorable financing terms, and ultimately, could maximize their return on investment. With the right support and guidance, Missouri's real estate market presents a wealth of opportunities for investors seeking sustainable growth and long-term success.