Nestled in the heart of America's Midwest, Wisconsin presents a compelling opportunity for global investors seeking to diversify their real estate portfolios.
The state's steady population, job growth, and favorable housing market trends, make it an increasingly attractive destination for investment in multifamily properties, single-family rental homes, vacation rentals, and condos.
But what truly sets Wisconsin apart from other US states?
This comprehensive guide, will explore the unique factors contributing to Wisconsin's appeal as a real estate investment hub. From its thriving economy to the top cities offering promising cash-on-cash returns, we hope you'll gain valuable insights to make informed decisions when investing in this dynamic region.
Population and Job Growth
Wisconsin has historically experienced a steady population and job growth that can be attributed to a combination of factors.
One of the key drivers is the state's diversified business sectors, which span across various segments such as manufacturing, agriculture, healthcare, and technology. This economic diversity provides stability and resilience, ensuring the state remains an appealing place to live, work, and invest.
Additionally, the state government's pro-business policies and incentives play a significant role in attracting new businesses and nurturing existing ones. These proactive initiatives are ultimately leading to the creation of more job opportunities and an influx of new residents.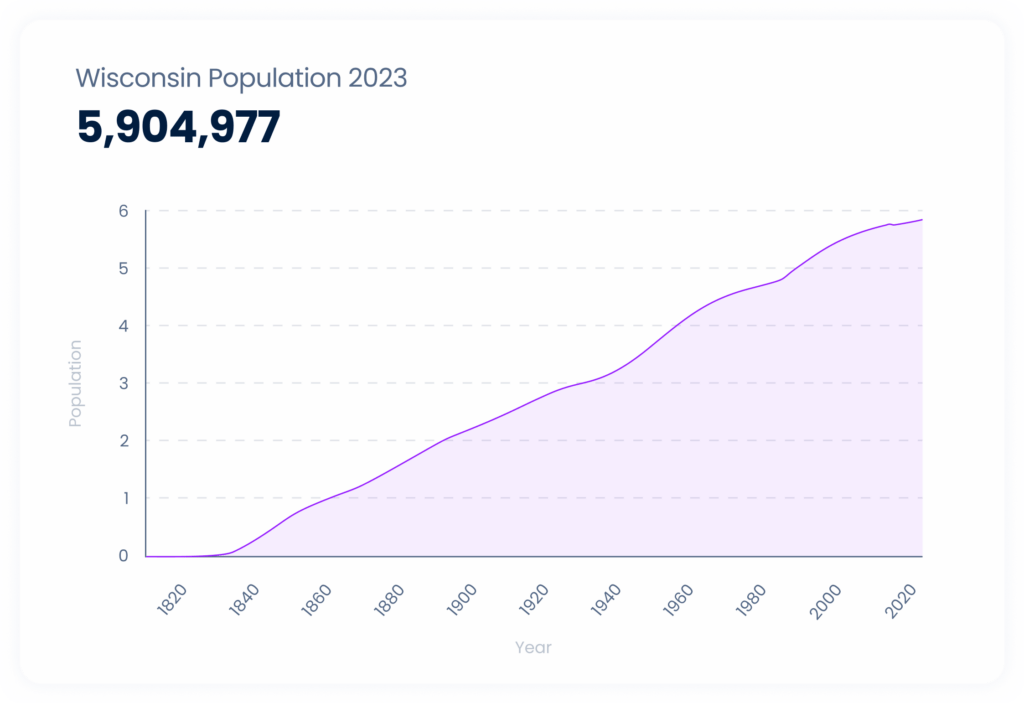 Population
Nearly 5.9 million reside in the state, making it the 20th most populous in the US.
The state has added over 205,000 residents over the past 12 years, due to both domestic and international migration.
A population growth rate of 3.6% over the past decade generates steady and consistent demand for housing.
Per capita income is $37,221 and median household income is $67,125, both figures a little less than the amount in the US.
Median age is 40.1, with 38% of the population between the ages of 20 and 49.
Over 90% of the residents are high school graduates, while nearly 33% hold a bachelor's degree or higher.

Economy
Gross Domestic Product (GDP) is $401.8 billion, increasing by about 45% over the past ten years.
Unemployment rate is at a historically low 2.4% as of April 2023, according to the Bureau of Labor Statistics (BLS).
Key industries include aerospace manufacturing, food and beverage, forest products, and bio-health.
Largest companies by employment are Aptiv, Kohl's, Johnson Controls, Advocate Aurora Health, and Datex Ohmeda Inc.
Cost of living is 19% lower than on the West Coast and 23% lower than on the East Coast.
The state is home to the 4th best city in the country for STEM jobs (Madison), the #1 best city for small business (Appleton), and boasts a labor force participation rate of 66.5%.
University of Wisconsin-Madison, Marquette University, and University of Wisconsin-Milwaukee are among the top colleges and universities in the state.
The state is near major population centers such as Chicago, Minneapolis, and Detroit.
It also shares a border with the Canadian province of Ontario, providing convenient access to Canadian cities like Toronto and Ottawa.
Transportation infrastructure features an extensive network of highways such as I-94 and I-43, airports like Milwaukee Mitchell International Airport and Dane County Regional Airport, railways operated by Amtrak, and public transit systems including Milwaukee County Transit System and Madison Metro.
Wisconsin Real Estate Market Statistics & Trends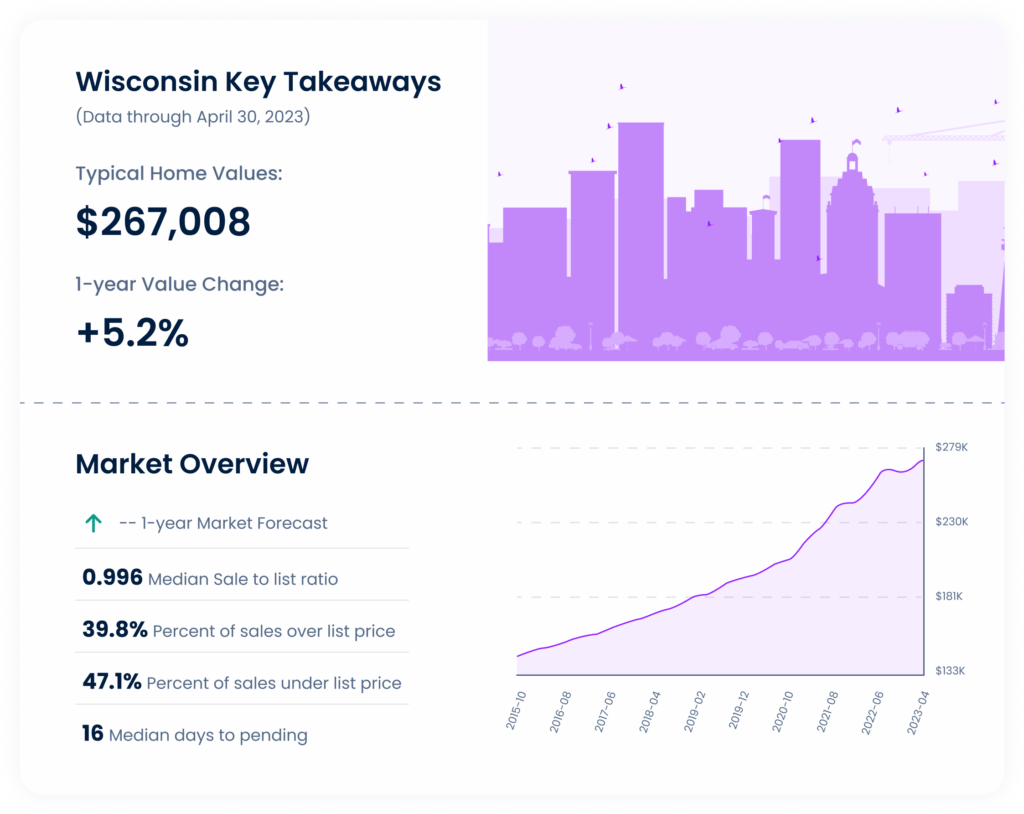 The Wisconsin housing market is experiencing steady growth, with home values increasing at a healthy rate, creating an attractive trend for those seeking to capitalize on the appreciating market. The median sale-to-list ratio reflects a balanced market where most properties sell close to their list price.
However, nearly half the transactions still close below the asking price, presenting potential negotiation opportunities for buyers. Properties move relatively quickly from listing to pending, indicating a strong demand for real estate in the state.
Here are the most recent housing market statistics, according to Zillow (April 30, 2023):
Typical home value is $267,008.
Increase of 5.2% year over year.
Home values have increased by 49% over the past five years.
Properties go from listing to pending in 16 days (median).
Zillow forecasts home prices will continue increasing this year.
Wisconsin's Profitable Pockets: Discover the Five Largest Markets for Investment Properties
Here are the five largest markets by population to consider for rental property, ranked from largest to smallest. Population data is from Data USA, home values are from Zillow (April 2023), and median rent prices for 3-bedroom properties are from Zumper (June 2023).
Milwaukee
Located on the southeastern shore of Lake Michigan, Milwaukee is home to a diverse economy driven by industries such as manufacturing, healthcare, and financial services. The city showcases a strong rental market with 59% of households being rent-occupied.
Population: 1,580,000
Change in population (since 2020): .0.08%
Home value: $189,467
Change in home values (5-year): 60.8%
Median rent: $1,395
Rent change (year over year): 3.0%
Green Bay
Green Bay is a vibrant city in the northeastern part of the state and is known for its strong sporting culture and thriving economy. There is a solid demand for rental housing, catering to diverse demographics including young professionals and families. The economy benefits from industries such as manufacturing, healthcare, and education.
Population: 320,800
Change in population (since 2020): 0.45%
Home value: $223,040
Change in home values (5-year): 48.7%
Median rent: $1,395
Rent change (year over year): 11.0%
Madison
Situated in the south-central part of the state, Madison is the capital of Wisconsin and is home to the prestigious University of Wisconsin-Madison. With more than 50% of the households renter-occupied, the university contributes to a strong demand for rental housing, as students, faculty, and staff seek accommodation in the area. The robust economy is fueled by sectors such as education, technology, and healthcare.
Population: 258,300
Change in population (since 2020): 1.33%
Home value: $376,669
Change in home values (5-year): 37.6%
Median rent: $1,900
Rent change (year over year): 6.0%
Racine
Racine is a charming city in southeastern Wisconsin, known for its lakefront beauty and vibrant arts scene. With a strong emphasis on revitalization efforts and an economy anchored by advanced manufacturing, healthcare, and innovative technologies, the city offers investment opportunities in a thriving community characterized by a blend of tradition and modernity.
Population: 195,800
Change in population (since 2020): 0.13%
Home value: $162,486
Change in home values (5-year): 48.9%
Median rent: $1,200
Rent change (year over year): -6.0%
Kenosha
Situated between Milwaukee and Chicago, Kenosha enjoys a strategic location that attracts residents and businesses alike. This growing city offers real estate investors opportunities to capitalize on the increasing demand for rental housing, driven by economic development in sectors such as manufacturing, healthcare, and retail.
Population: 99,700
Change in population (since 2020): 0.08%
Home value: $225,918
Change in home values (5-year): 34.9%
Median rent: $1,595
Rent change (year over year): 5.0%
Smaller Cities for Wisconsin Investment Property
Smaller cities often appeal to real estate investors due to their relatively lower property prices, potentially higher returns on investment, and reduced competition compared to larger metropolitan areas. These smaller markets also offer a unique sense of community and stability, which can lead to consistent rental demand and long-term tenant retention.
Here are 10 small cities and towns to consider for investing in rental property:
Appleton
Waukesha
Janesville
Eau Claire
Oshkosh
West Allis
La Crosse
Sheboygan
Wauwatosa
Fond du Lac
Unlocking Wisconsin's Potential
Investing in Wisconsin real estate offers many of benefits, from the strategic locations of Milwaukee and Racine to the untapped potential of smaller cities. The state's diverse economy, growing population, and affordable property prices make it an attractive option for savvy investors looking to expand their portfolios.
To optimize your investment experience, it's crucial to work with a trusted team of professionals, including a knowledgeable real estate agent, a reliable property manager, and an experienced lender.
A reputable lender who specializes in providing tailored solutions for foreign nationals can help streamline the financing process, ensuring you have access to the resources necessary to capitalize on Wisconsin's promising real estate market. By collaborating with these experts, you can unlock the full potential of Wisconsin's unique investment opportunities, setting yourself up for long-term success.