In the vast landscape of global real estate, a southeastern US state emerges as an alluring prospect for foreign nationals.
Known for its vibrant cultural scene and picturesque landscapes, Tennessee is also recognized for its strong economy, growth potential, and affordable housing market. These factors have made it an attractive destination for those seeking rental property investments.
From single-family homes to condos, vacation rentals, and small multifamily properties, the opportunities are diverse and plentiful. Several of its cities are witnessing a surge in property values and rental trends, marking them as ideal investment spots while still retaining their affordability.
However, venturing into this state involves more than just realizing its potential. It requires meticulous research, knowing local market dynamics, and, most importantly, understanding the financing options available.
In this comprehensive guide, we'll examine key trends and pinpoint potential hotspots, providing you with valuable insights to help make an informed decision whether investing in Tennessee could be your next move.
Population and Job Growth
The population growth trend is one of the key factors that make it an attractive area for investment. The state has witnessed a steady influx of new residents, driven by its high quality of life, affordable living, and thriving job market. This consistent growth has led to an increased demand for housing, making it an attractive market for investors.
The state is home to a diverse range of industries, including healthcare, manufacturing, and technology, which have been expanding continuously, creating numerous job opportunities. This robust job growth not only attracts a workforce from across the country but also contributes to the stability of the rental market.
Remember, while these trends paint a promising picture for property investment, it's important to go deeper into specific markets within the state to understand where the best opportunities lie. Each city and neighborhood have its own unique dynamics, and understanding these can help you make better informed investment decisions.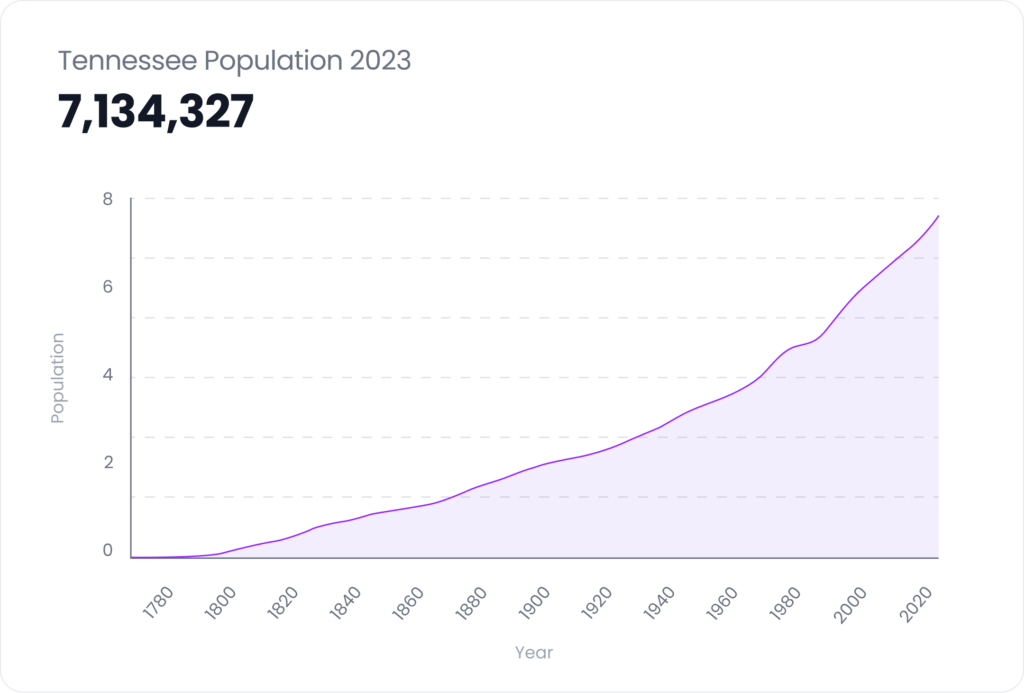 Population
Tennessee is home to over 7 million people, boasting a population growth of over 11% since 2010, according to the most recent census.
The state could add 1 million new residents over the next 20 years, based on research from The Boyd Center for Business and Economic Research.
Major cities and counties include Nashville, Memphis, Knoxville, Chattanooga, Clarksville, Murfreesboro, and counties like Shelby, Davidson, Knox, and Hamilton.
Tennessee shares its borders with eight other states: Kentucky and Virginia to the north, North Carolina to the east, Georgia, Alabama, and Mississippi to the south, and Arkansas and Missouri to the west.
Median age is 39.2, about the same figure as the US.
Median household income is $59,695 and per capita income is $33,904, according to information on Census Reporter.

Economy
GDP is nearly $476 billion, increasing by about 66% over the last 10 years.
Unemployment rate is 3.3% as of May 2023, according to the US Bureau of Labor Statistics (BLS).
WalletHub reports that Tennessee is home to some of the country's best large, midsize, and small cities for real estate.
Key industry sectors include advanced manufacturing, agriculture, automotive, education, entertainment, health care, and tourism.
Amazon, Tennessee Valley Authority, Lowe's, FedEx, and BlueCross BlueShield of Tennessee are among the largest employers in the state.
Middle Tennessee (where Nashville is located) has witnessed double-digit job tech growth over the past 5 years.
The three largest colleges and universities in Tennessee are The University of Tennessee-Knoxville, University of Memphis, and Middle Tennessee State University.
Over 30% of the state's residents hold a bachelor's degree or higher, while 11% hold a post-graduate degree.
The state boasts a robust transportation infrastructure, with a network of roads and highways spanning over 6.59 million kilometers, an efficient rail system, multiple airports, and freight and passenger ports on the Mississippi River.
Major metro areas within a day's drive include Atlanta, Charlotte, St. Louis, Cincinnati, Louisville, Indianapolis, and Columbus.
Home Price Stats and Trends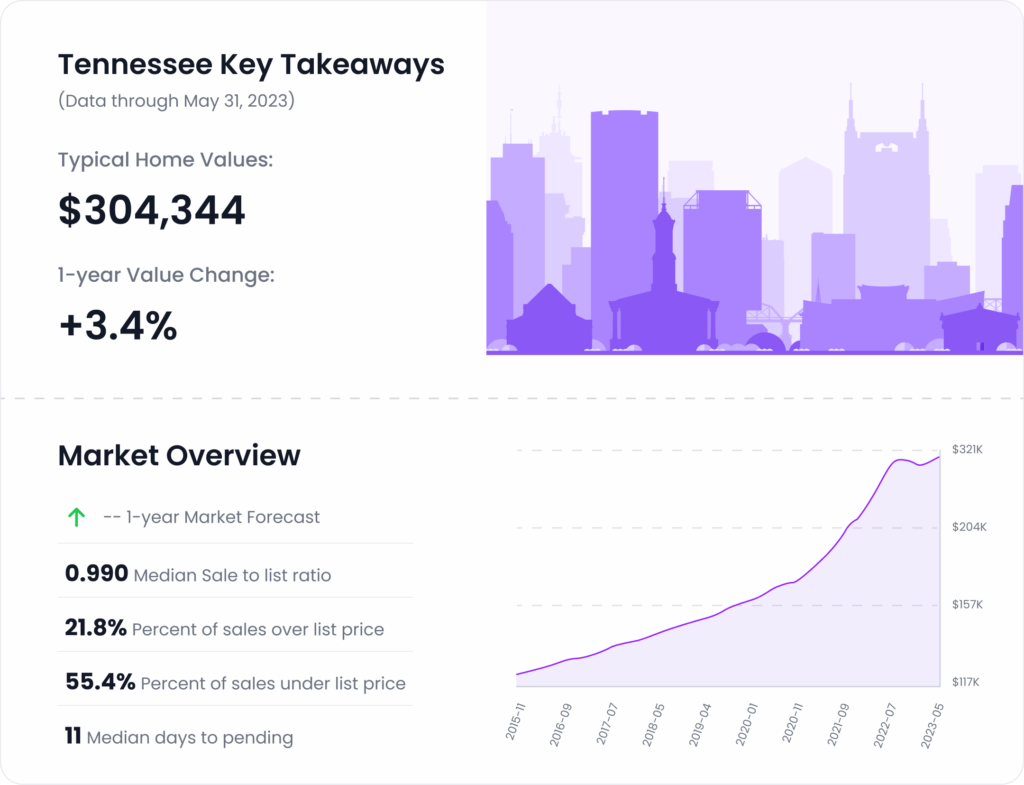 The housing market presents a dynamic landscape for potential investors, with home values demonstrating a consistent upward trajectory. The typical home value in the state reflects a healthy real estate market, making it an opportune time to consider investing in rental properties.
The pace at which properties transition from listing to pending status further underscores the vibrancy of the market. This swift turnover suggests a high demand for homes and a competitive market environment. For investors, this could translate into less time spent on vacancies and quicker returns on their investments.
Here are the most recent housing market statistics from Zillow (May 31, 2023):
Typical home value is $304,344.
Increase of 3.4% year over year.
Home values in TN have increased by 74.7% over the past 5 years.
Properties are going from listing to pending in 11 days (median).
Zillow forecasts home prices will continue rising over the next year.
Tennessee's Goldmine: Exploring the State's Top Five Lucrative Markets for Real Estate Investments
Consider these top five populous markets for your investment in single-family rentals (SFRs), small multifamily residences, and condominiums. The population figures have been sourced from Data USA, while Zillow (as of May 2023) provided the values of homes. Information on the median rent prices for properties with three bedrooms comes from Zumper, as reported in July 2023.
Nashville (Metro Area)
Nashville, fondly known as Music City, is the capital and most populous city. It's situated in the north-central part of the state on the Cumberland River. Known for its vibrant music scene and rich cultural history, Nashville attracts millions of tourists each year. The city has traditionally seen more owner-occupied homes than renter-occupied ones, which may be why rents have skyrocketed by nearly 30% over the past year.
Population: 1,900,000
Change in population (since 2020): 1.7%
Home value: $432,925
Change in home values (5-year): 55.9%
Median rent: $2,245
Rent change (year over year): 29.0%
Memphis
Located in the southwestern corner of the state along the Mississippi River, Memphis is renowned for its rich musical heritage, being the birthplace of blues music and a significant hub for rock 'n' roll and soul. The city is also an important logistics and transportation hub for FedEx due to its central location. In terms of the housing market, Memphis stands out as over half of the households are occupied by renters.
Population: 1,340,000
Change in population (since 2020): 0.3%
Home value: $149,868
Change in home values (5-year): 77.9%
Median rent: $1,413
Rent change (year over year): -5.0%
Knoxville
Knoxville, nestled in the eastern part of the state near the Great Smoky Mountains, is known for its vibrant arts scene and outdoor recreational opportunities. The city also houses the main campus of the University of Tennessee, attracting a large student population. This is a real estate market where renter-occupied homes outnumber those that are owner-occupied, and rents have seen a double-digit increase over the past year.
Population: 861,900
Change in population (since 2020): 1.0%
Home value: $331,806
Change in home values (5-year): 70.9%
Median rent: $2,000
Rent change (year over year): 15.0%
Chattanooga
Nicknamed the "Scenic City", Chattanooga is in Southeast Tennessee along the Tennessee River and near the border of Georgia. Its natural beauty makes it an attractive destination for outdoor enthusiasts. The city also boasts a thriving arts scene and a growing tech industry, which contributes to its economic vitality.
Population: 561,000
Change in population (since 2020): 0.9%
Home value: $288,174
Change in home values (5-year): 67.1%
Median rent: $1,895
Rent change (year over year): 11.0%
Clarksville
Clarksville is located in north Tennessee, near the border with Kentucky, and offers a blend of historic charm and modern amenities. The city is near Fort Campbell military base, bringing a diverse and transient population to the area. Clarksville presents an interesting proposition when it comes to rental property. Its diverse population, including military personnel and their families, often seek rental accommodations, providing a steady stream of potential tenants.
Population: 304,600
Change in population (since 2020): 1.7%
Home value: $303,143
Change in home values (5-year): 67.9%
Median rent: $1,675
Rent change (year over year): 5.0%
Small Towns, Potential Big Returns
Beyond the bustling metropolises, the state is also home to a number of smaller towns for real estate investment. Many rental property investors find these less densely populated areas attractive due to advantages such as lower costs of property, lesser competition, and consistent demand for rentals from the local populace. Often, these compact cities offer a more economical lifestyle and foster a sense of close community, characteristics that draw in both tenants and property owners.
Here are 10 promising locations to consider:
Murfreesboro
Franklin
Johnson City
Jackson
Hendersonville
Smyrna
Spring Hill
Bartlett
Kingsport
Gallatin
Navigating the Tennessee Property Landscape
Tennessee's housing market presents a promising arena for foreign nationals interested in rental property investment. The state's robust economy, coupled with a strong demand for rental properties in both metropolitan and smaller cities, creates fertile ground for lucrative investments. From the vibrant, artsy culture of Knoxville to the scenic beauty of Chattanooga and the historic charm of Clarksville, each city offers unique opportunities for investors.
Building Your Investment Dream Team
Key parts of building your investment dream team include an investor-friendly real estate agent who understands the dynamics of the Tennessee market, a reliable property management company to handle day-to-day operations, and a lender well-versed in working with foreign nationals.
In the lending space, Lendai stands out as a trusted partner for foreign nationals. Thanks to our technological edge, the entire loan process is fully online from the comforts of your home, providing efficient and specific financing solutions for foreign investors.
With our global presence and commitment to assisting foreign investors to navigate the US real estate market, Lendai is an invaluable asset on your investment journey. Let us help you bettercapitalize on the potential of Tennessee's housing market and achieve your financial goals.