The opportunities are abundant for foreign real estate investors considering investing in Illinois. Nicknamed the "Land of Lincoln," the state offers many attractive rental property investment options, including single-family homes, condos, and short-term vacation rentals.
One of the most popular options for investing is purchasing a single-family rental (SFR). They can provide secure monthly cash flow through tenants' rent payments and appreciation while you build equity over time. Condos are another alternative worth considering, as the cost of investing in a condo is usually lower than in a single-family home.
By exploring the many avenues of investing in Illinois real estate, foreign investors have the potential to build wealth through long-term appreciation and monthly cash flow. Investing in rental property can be rewarding and profitable with careful research of different investment options and the right lender on your side.
Why Real Estate Investors Like Illinois
Illinois is a state that is an attractive destination for foreign real estate investors. The opportunities for real estate investments are vast, from major metropolitan cities like Chicago and Springfield to rural areas. The numerous neighborhoods, towns, and counties that make up the region provide a wealth of investment opportunities.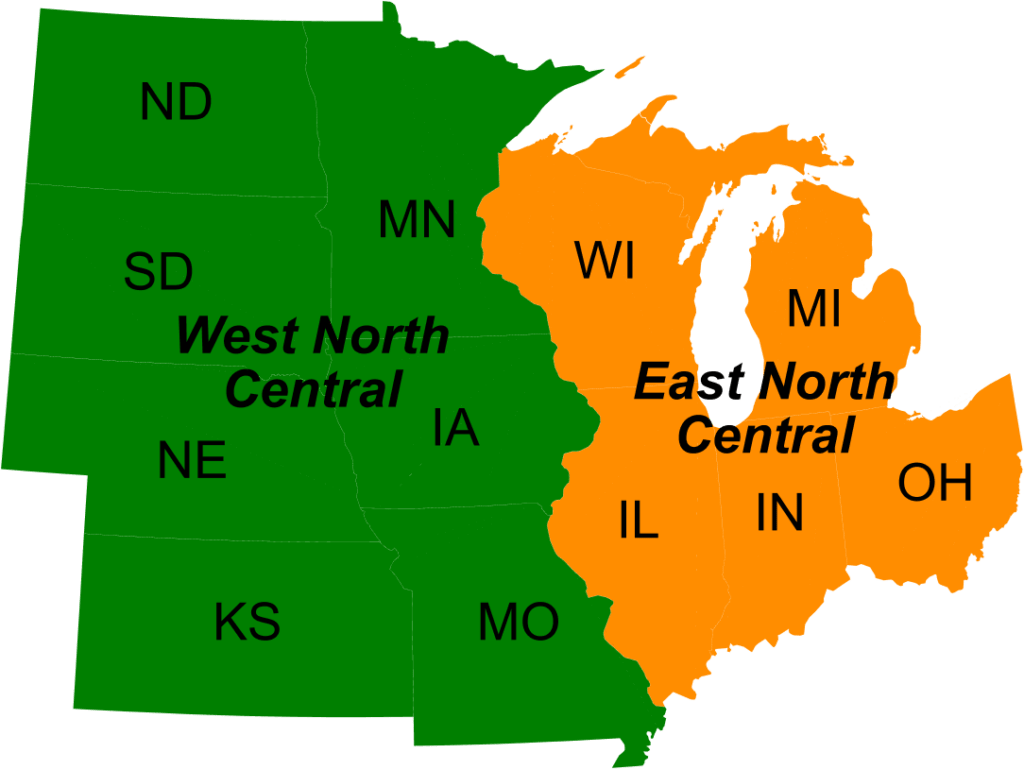 A main factor why investors like Illinois is because of its location. The state is located in the heart of the Midwest, making it a strategic and central hub for commerce and trade. This means that investing in real estate properties ensures proximity to thriving markets, which translates to increased opportunities for investment returns.
Another reason why investors are drawn here is its highly educated workforce. The state is home to several prestigious universities, such as Northwestern University and the University of Chicago, which provide a ready supply of highly skilled and qualified professionals for businesses to hire. This also contributes to a stable and growing job market, making the state an attractive destination for businesses and property investors.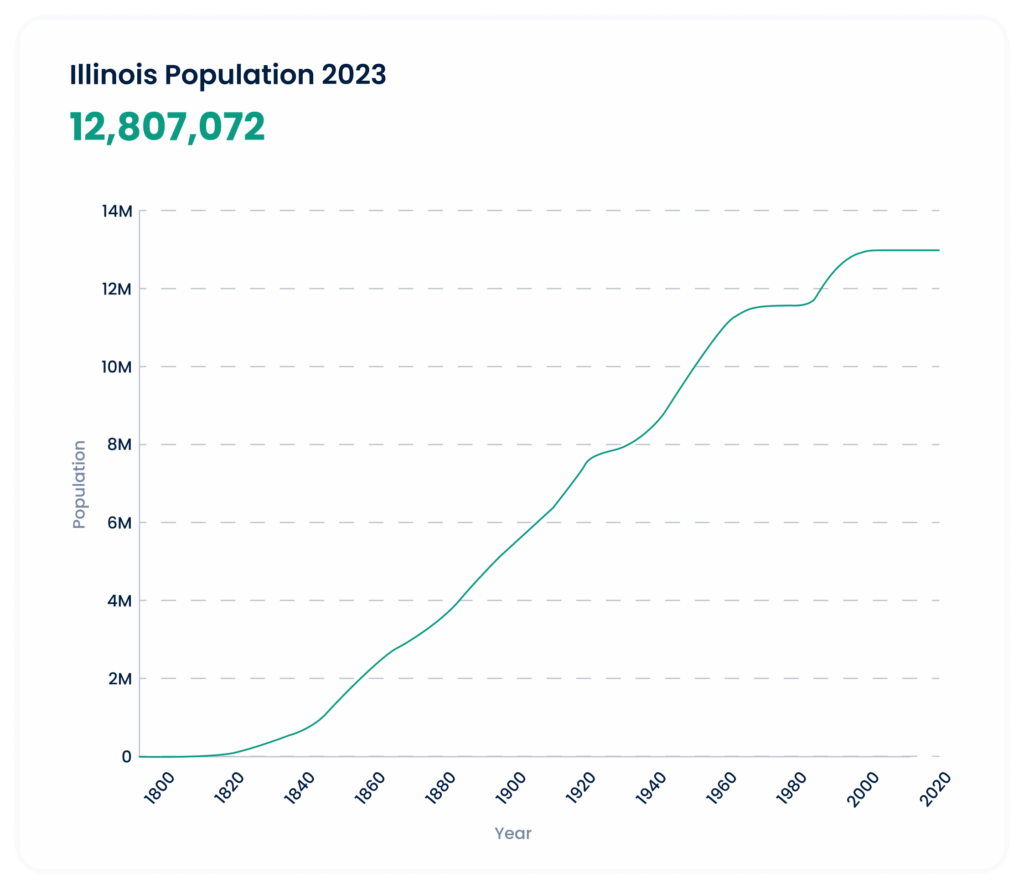 Population
According to Census Reporter, Illinois is home to over 12.8 million, with nearly 5 million households in the state.
Chicago, Aurora, Naperville, Joliet, and Rockford are the most populous cities.
The median age is 39, about the same as in the US.
Per capita income is $39,794, and median household income is $72,205, which is a little higher than the US.
Renters occupy 32% of the housing units.
Nearly 50% of the residents have been in the same home since 2015.

Economy
The GDP is nearly $1 trillion, growing by more than 36% over the past ten years, according to data from the St. Louis Fed.
The top 5 sectors contributing the most to GDP are manufacturing, real estate and rentals, finance and insurance, professional and technical services, and wholesale trade.
The unemployment rate is 4.5% (BLS January 2023), about the same rate as before the pandemic.
According to Intersect Illinois, Illinois is a "global powerhouse" and home to over 1,700 major corporate headquarters and more than 1,900 foreign companies.
The largest employers in the state include Abbott Laboratories, Northern Trust, Caterpillar, and agribusiness Mondelez International.
Over 37% hold a bachelor's degree or higher, a little more than the rate in the US.
Illinois is home to over 200 higher education institutions, including the University of Chicago, Northwestern, the University of Illinois Urbana-Champaign, Loyola University, and DePaul University.
Transportation infrastructure includes five international airports, the 3rd largest Interstate highway system in the US, and the 3rd intermodal port system in the world.
Illinois Real Estate Market Stats & Trends

The fact that median home values in Illinois have increased by 4.9% year over year may be seen as a benefit for some real estate investors. While it is true that this growth rate is lower than many other housing markets, it also means that property values may be more stable and less likely to experience a sudden drop in value. Furthermore, the slower growth rate may also mean less competition among property owners, which could result in lower purchase prices, more consistent rental income, and higher profit margins.
Here are the most recent housing market statistics for Illinois, according to Zillow (February 28, 2023):
The typical home value is $228,698.
Increase of 4.9% year over year.
Illinois home values have increased by about 64% over the past eight years.
The median sale-to-list price ratio is 0.984, meaning homes sell for approximately the asking price.
Homes go under contract in 22 days (median) after being listed for sale.
Where To Look for Investment Properties in Illinois
If you're an investor looking to explore the housing market in Illinois, consider these top five metropolitan areas. Our population data was sourced from Data USA, while the latest home values were gathered via Zillow (February of 2023). To help you make your investment decision, we've also included the median rents for 3-bedroom homes in each area, sourced from Zumper in March 2023.
Chicago (metro area)
Chicago, the third-largest city in the United States, is a prime real estate hub in the Midwest. The housing market is diverse, and investors seeking rental properties in the "Windy City" will find plenty of promising prospects in historic and modern neighborhoods.
Population: 2,700,000
Change in the population (since 2020): -0.38%
Home value: $262,866
Change in home values (5-year): 22.9%
Median rent: $2,450
Rent change (year over year): 10.0%
Aurora
Aurora is the second-largest city in the state, located about 40 miles west of Chicago. With a diverse population, the city offers a mix of urban and suburban living. The city is also investing heavily to revitalize its downtown area, with new businesses, shops, and restaurants attracting visitors from all around.
Population: 199,326
Change in the population (since 2020): -0.3%
Home value: $251,851
Change in home values (5-year): 37.0%
Median rent: $2,300
Rent change (year over year): 10.0%
Naperville
Naperville is a well-established suburban community located about 30 miles west of Chicago. With a population of approximately 150,000, the city is considered one of Illinois's wealthiest and most desirable places to live. Naperville's housing market is marked by high price points, with home values considerably higher than in other parts of the state due to factors like strong demand and limited supply, top-rated schools, and a high quality of life.
Population: 147,734
Change in the population (since 2020): 0.16%
Home value: $474,545
Change in home values (5-year): 27.8%
Median rent: $2,500
Rent change (year over year): 4.0%
Rockford
Rockford is located near the northern border, south of the Wisconsin state line. Historically known for its manufacturing and engineering industry, Rockford's economy has diversified in recent years, with many new tech, healthcare, and service-related businesses moving into the area. Median home prices in Rockford are notably more affordable than in other parts of the state, making it an attractive option for investors seeking to acquire rental properties.
Population: 147,441
Change in the population (since 2020): 0.25%
Home value: $128,876
Change in home values (5-year): 96.9%
Median rent: $1,200
Rent change (year over year): 0.0%
Joliet
Joliet is located in Will County, about 40 miles southwest of Chicago. Rent prices have risen notably in recent years, according to data from Zumper. One possible explanation for this rental market trend could be the city's increased popularity among renters, with more people moving to the area for its affordable housing prices compared to Chicago.
Population: 147,323
Change in the population (since 2020): -0.34%
Home value: $199,189
Change in home values (5-year): 37.2%
Median rent: $1,723
Rent change (year over year): 28.0%
More Top Illinois Real Estate Markets
While we've discussed some of the larger metropolitan areas, small and medium-sized real estate markets in Illinois should not be overlooked. Here are seven places that may present unique opportunities for investors, with potentially lower home prices and greater growth prospects:
Elgin
Springfield
Peoria
Champaign
Waukegan
Lake Michigan SW Area (New Buffalo, St. Joseph, Benton Harbor)
Indiana (Gary, Hammond, Munster)
Get the Most Out of Your Real Estate Investments in Illinois
Illinois is the perfect destination in the Midwest for foreign real estate investors looking to expand their portfolios. This state offers a wide range of properties to invest in, like urban high-rises, rural farmland, or lakeshore vacation homes. However, to make a profitable investment, it's important to understand the market conditions, conduct proper due diligence and assemble an expert team consisting of a local real estate agent, a property manager, lender, and other professionals to help with the process. When done right, investing in real estate can bring impressive financial returns to smart investors worldwide.