Nestled in the heart of the Southern United States, Alabama is a gem that often flies under the radar in the world of real estate investing. This humble state, known for its rich history, vibrant culture, and hospitable people, holds a variety of opportunities for those looking to diversify their investment portfolios with rental properties.
Why Alabama, you may ask? The answer lies in its unique blend of affordability, steady economic growth, and thriving rental market, making it an attractive destination for savvy foreign investors.
In this blog post, we will take you through the top markets in Alabama for rental property investments. From bustling cities to charming small towns, each market presents unique opportunities that could be just the right fit for your investment goals. So, keep reading to learn more about the vast landscape of Alabama real estate investing. You might be surprised by what you discover.
Population and Job Growth
Alabama has been experiencing a steady rise in population and job growth over the past decade. This upward trend has been spurred by a range of factors, creating a vibrant and growing economy that presents numerous opportunities for real estate investors. The state's strategic location, diverse industries, and welcoming business environment have all played pivotal roles in this sustained growth.
One of the key drivers behind this growth is the diverse economy. The state has made significant strides in sectors such as manufacturing, technology, and healthcare. This diversity has not only attracted a steady stream of new residents but also created a robust job market. A thriving job market often translates to a strong rental market, as more people moving into the state for work seek places to live.
Moreover, Alabama's commitment to workforce development and education has been instrumental in attracting businesses and fostering job growth. The state has invested heavily in its educational institutions and vocational programs, equipping its residents with the skills needed for modern industries.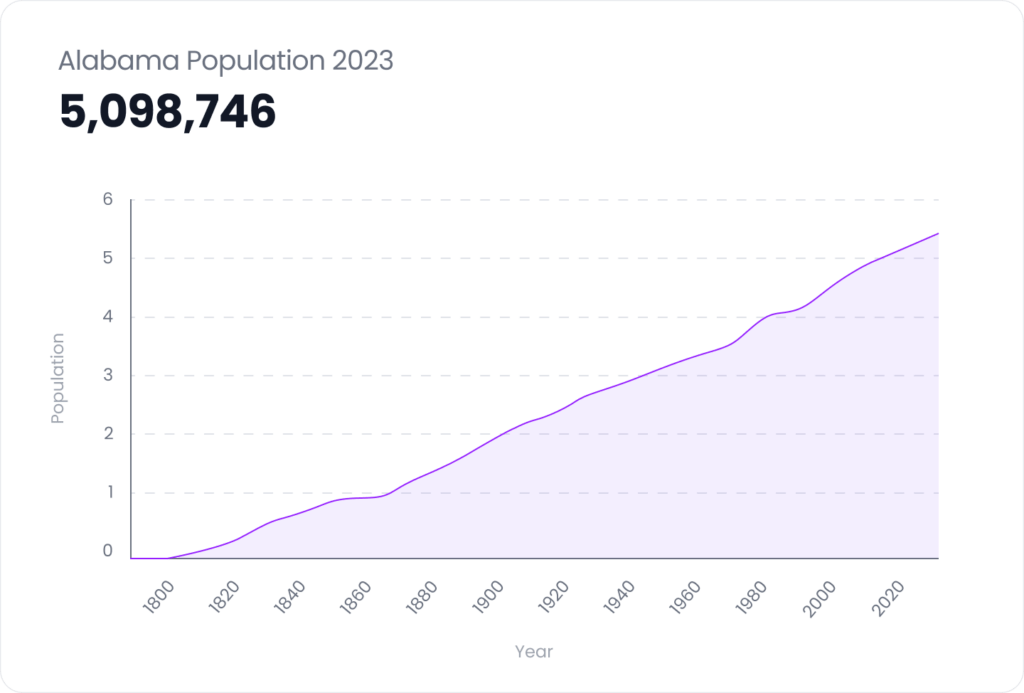 Population
The state is home to nearly 5.1 million, boasting a steady population growth of over 6% since 2010.
The population is projected to grow by an additional 300,000 over the next 20 years.
The median age is 39.8 years, with 38% of the population between the ages of 20 and 49.
Per capita income is $30,608 (about 80% of the amount in the U.S.).
The median household income is $53,913 (about 75% of the amount in the U.S.).
Just over 27% hold a bachelor's degree or an advanced degree versus the national average of 35%, according to Census Reporter.

Economy
Home Price Stats and Trends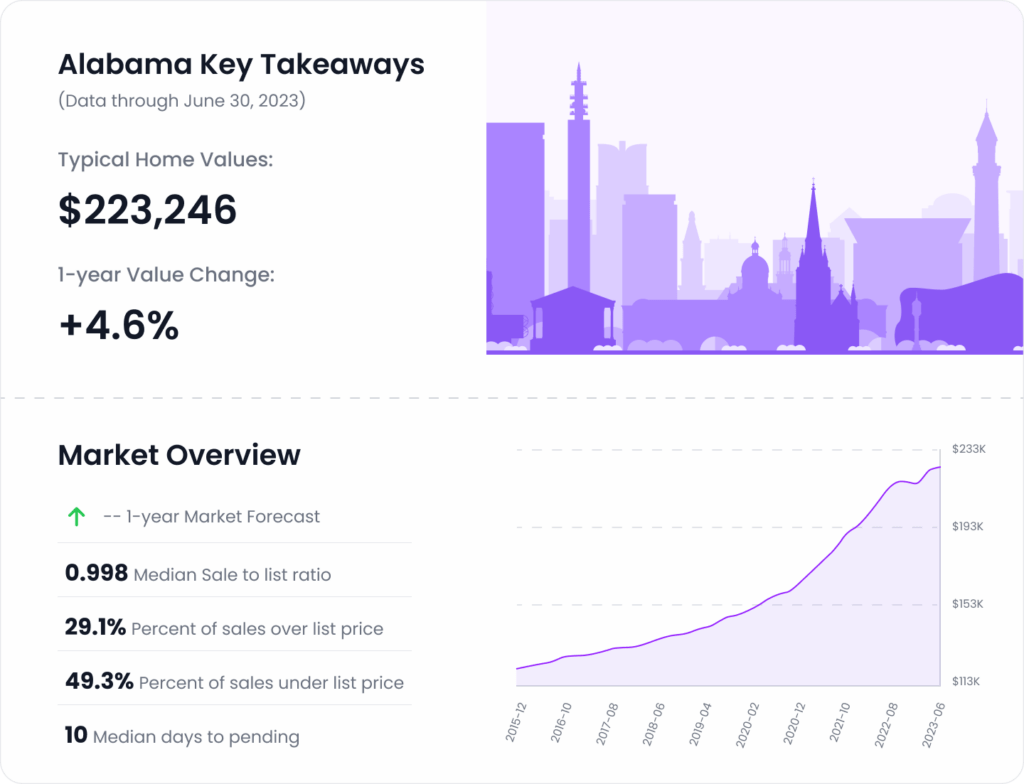 The real estate market has been showing a positive trend, with home values on the rise, reflecting the overall health of the state's housing market. Sales are also moving at a brisk pace. Many homes sell at or above their listing prices, indicating a competitive market. Also, properties are not remaining on the market for long before going into pending status, suggesting a high level of buyer activity and interest.
Here are the most recent housing market statistics from Zillow (June 30, 2023):
The typical home value is $223,246.
Increase of 4.6% year over year.
Home values have increased by nearly 64% over the past 5 years.
Properties are going from listing to pending in 10 days (median).
The 1-year market forecast from Zillow is for home values to continue rising.
Largest Cities for Rental Properties
Larger urban areas often hold a particular allure for foreign investors. The promise of steady rental income, driven by high demand and a bustling economy, makes these metropolitan hubs a strategic choice for investment property.
Here are the five most populous markets to consider for investments in single-family home rentals (SFRs), smaller multifamily dwellings, condos, and short-term rentals. The demographic statistics are sourced from Data USA, while the existing home valuations (as of June 2023) are supplied by Zillow. The median rental prices for properties with three bedrooms are reported by Zumper in July 2023.
Birmingham
Birmingham, the most populous city in Alabama, is positioned in the state's north-central region. Known for its industrial heritage, it has grown into a thriving metropolis with diverse economic drivers, including healthcare, education, and finance. The city's rich history, cultural institutions, and parks contribute to its vibrant community and steady population growth.
Population: 1,090,000
Change in population (since 2020): 0.3%
Home value: $104,878
Change in home values (5-year): 88.3%
Median rent: $1,275
Rent change (year over year): 2.0%
Huntsville
Known as the "Rocket City" for its historical contributions to space missions, Huntsville is a thriving hub of technological innovation and scientific research. The city's robust job market, fuelled by sectors such as aerospace and defense, and its unique blend of cultural and recreational attractions make it a compelling destination to consider for rental property investment.
Population: 464,607
Change in population (since 2020): 1.7%
Home value: $281,722
Change in home values (5-year): 76.6%
Median rent: $1,500
Rent change (year over year): 0.0%
Mobile
Mobile is a vibrant city located on the Mobile River at the head of Mobile Bay in southwestern Alabama. It is home to the state's only seaport, playing a significant role in the economy and job growth. Known as the birthplace of Mardi Gras, Mobile boasts a rich history, diverse culture, and an array of attractions that contribute to its appeal and steady population growth.
Population: 430,313
Change in population (since 2020): -0.1%
Home value: $184,760
Change in home values (5-year): 54.5%
Median rent: $1,450
Rent change (year over year): 6.0%
Montgomery
Montgomery, located near the center of Alabama, is the state's capital and is steeped in rich history. It is nestled at the convergence of the Coosa and Tallapoosa rivers, forming the Alabama River. The city's economy thrives on state government activities, and it is also a regional hub for healthcare, retail, and business services.
Population: 373,552
Change in population (since 2020): 0.0%
Home value: $138,038
Change in home values (5-year): 51.3%
Median rent: $1,225
Rent change (year over year): 13.0%
Tuscaloosa
Tuscaloosa is perched on the shores of the Black Warrior River in west-central Alabama. It is known for its vibrant economy, driven by sectors such as education, healthcare, and manufacturing, contributing to its population and job growth. The largest university in Alabama, The University of Alabama, is located in the city of Tuscaloosa. This may be one reason why over half the homes are renter-occupied.
Population: 251,878
Change in population (since 2020): 0.5%
Home value: $210,638
Change in home values (5-year): 42.8%
Median rent: $1,548
Rent change (year over year): -3.0%
Why Some Real Estate Investors Prefer Smaller Cities
With their unique charm and lower competition, smaller cities can offer compelling opportunities for real estate investors. These locations often boast more affordable property prices and a strong sense of community, which can translate into stable, long-term rental demand and cash flow.
For those seeking to enter the U.S. real estate market at a lower entry point, here are 12 smaller cities and towns that could provide the ideal starting place for investment opportunities:
Hoover
Auburn
Dothan
Madison
Decatur
Florence
Prattville
Vestavia Hills
Phenix City
Alabaster
Gadsden
Opelika
Navigating the Alabama Real Estate Landscape
Alabama's real estate market is a vibrant ecosystem teeming with opportunities for both domestic and international investors. The state offers a wide array of properties, from affordable homes to luxury estates, in diverse locations – urban centers, suburban neighborhoods, and idyllic rural settings. This diversity and steady economic growth make it an attractive investment destination.
However, navigating the complexities of the housing market requires expertise and local knowledge. An experienced property manager can provide invaluable support in managing properties, ensuring they are well-maintained, and dealing with tenants. They have the know-how to maximize rental income and keep vacancies low, contributing to a successful investment.
Working with an investor-friendly real estate agent is equally crucial. They can guide investors through the purchase process, provide insights into local market trends, and help identify properties that align with the investor's goals and risk tolerance.
Lastly, securing financing is often one of the most challenging aspects of investing in U.S. real estate for foreign nationals. Working with a lender specializing in providing U.S. financing for foreigners is essential. Lendai leverages technology and A.I. to streamline the financing process and offer competitive rates to foreign investors.