Are you ready to get the best out of your short-term rental investments this year? As an experienced Short-Term Rental (STR) investor, there's never been a better time than the present to maximize the potential of your real estate portfolio.
This blog post will cover the latest trends in STR and vacation rental investing for 2023, as well as strategies to maximize cash flow from property rentals and grow a short-term rental portfolio.
Short-Term Rental Trends for 2023
According to experts, in 2023, the STR market should continue to thrive as more travelers take advantage of its convenience and economic benefits. The vacation rental market across the US is expected to experience positive growth, as the following chart from CoStar illustrates: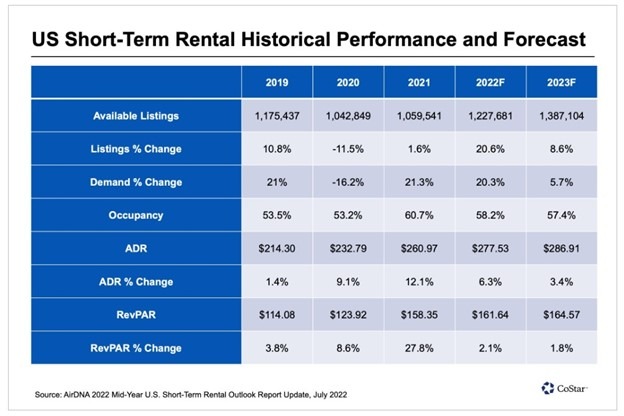 Source: US Short-Term Rental Market Poised for Further Growth
Furthermore, with the increased use of technology in short-term rentals, investors can easily own and manage their properties from afar using specialized apps and software. Technology has allowed foreign investors to join their American counterparts in this attractive investment strategy and make healthy returns without having to be fully present at their property (or country) all the time.
How to Choose the Right STR Team
Investing in additional short-term rentals can be an excellent investment decision, but having the right team in place is essential to ensure your real estate investment is successful. In this section, we will explore the importance of each of these players for an investor's success:
Property Manager: An essential key player for a STR team as they are responsible for finding tenants and managing the Airbnb rental's day-to-day operations.
Cleaners: Keep the environment safe, clean, and comfortable for guests and help to maintain the value of your investment.
Handyman: For maintaining and fixing items around the house, such as plumbing, carpentry, and other repairs.
Plumber: Keeping up with any issues related to water or sewer lines at the property.
Electrician: Ensuring that all electrical connections and wiring at the property are properly installed and maintained.
Digital Marketers: Help you reach more potential guests through different digital channels such as social media, SEO, email marketing, and PPC (pay-per-click) campaigns.
Accountant: For tracking rental income and expenses and creating financial reports.
Lawyer: Hiring a lawyer to ensure that all laws related to short-term rentals in your area are followed is highly recommended.
Lender: Finding the right lender offering competitive and flexible terms is essential if you plan to take out a loan, refinish existing debt, or access capital to expand your portfolio.
Utilize Tech & Property Management Companies
The growing popularity of short-term rental investments has led to many tech companies creating new services to help property owners manage their investments from afar. These companies offer a range of tools and applications that can automate many tasks associated with rental management, such as arranging bookings, collecting rent payments, tracking maintenance needs, and more.
With the assistance of these modern systems, landlords can focus less on day-to-day minutiae and more on long-term strategies for maximizing profits. Additionally, property management companies that specialize in handling vacation rentals can be invaluable for owners who may not have the time or technical expertise to manage their properties independently.
Here are some of the top Airbnb management companies in the US to consider, listed in alphabetical order, according to reviews from Awning and Hostaway:
AvantStay
Founded in 2016, AvantStay is a short-term rental specialist that utilizes its own technology to book accommodations, manage operations and elevate the guest experience. The company offers assistance with interior design at no cost, as well as its 'Good Neighbor Policy,' which works in partnership with nearby communities to tackle any issues that may arise.
Awning
Awning gives investors the know-how to secure a holiday rental, providing them with guidance on purchasing, furnishing, and overseeing it. Its full-service package includes help with listing, pricing, communication, and maintenance services.
Black Bear Rentals
Black Bear Rentals is a property management firm in North Carolina, offering services to Asheville, Black Mountain, Candler, Weaverville, and other surrounding areas. Their full services include marketing, finding the right tenant, comprehensive housekeeping, and routine maintenance.
Casago
For over a decade and a half, Casago has been providing top-notch property management services for vacation homes, corporate housing units, long-term rentals, single-family residences, and unfurnished long-term accommodations. The company strives to set itself apart from other firms by offering an array of property management services covering various rental properties.
Easy Air Rental
Easy Air Rental provides comprehensive South Florida property management, specializing in luxury homes. Services include managing listings, seamless check-in, 24/7 guest service, professional cleaning services, price optimization, maintenance services, inventory & home inspection, and home decoration & staging.
Evolve
Since its launch in 2011, Evolve has become a leading national property management company and provides services for both short-term and long-term vacation rentals. In addition to providing quality property management solutions, the company also offers numerous benefits that make it an attractive choice for those looking to rent their properties, including low fees compared to other vacation rental management companies and liability insurance with damage protection coverage.
HostStarter
HostStarter offers a full suite of property management, cleaning and turnover services, and furniture rental in Texas. Their Airbnb property sourcing service helps prospective investors find the perfect investment property, while their listing service assists sellers with marketing and selling vacation rentals on Airbnb and Vrbo. Areas covered include Dallas, Fort Worth, Arlington, Irving, and Plano.
Rabbu
Rabbu is an innovative, full-service short-term rental property manager for investors. Originating in Charlotte and Miami, they are now swiftly extending their services across the Southeast and US. With Rabbu's platform, you get the highest returns on your property by making it available for short, medium, and long-term bookings. During high seasons, you can rent your property on Airbnb while securing a longer-term tenant during off-seasons to maximize your rental income.
Vacasa
Vacasa, established in 2009, is a comprehensive vacation rental management firm that serves the US, Canada, and Mexico. Their services extend to all aspects of home renting, including cleaning after guests have departed. The company also offers tailored demand-driven market rates, a digital revenue dashboard, dedicated local teams for protecting properties, and custom interior design services depending on budget and taste.
Locate Higher-Yielding Rental Properties
For experienced vacation rental property investors, one of the most important steps in achieving a bigger return on investment (ROI) is to locate higher-yielding rental properties. Investing in condos can be an effective strategy as they can be easier to manage than single-family homes. It's also wise to research properties near popular tourist or business destinations like beaches, ski resorts, and conference centers, as these areas often have a stronger demand for short-term rentals.
Understanding the local rental market is essential so that rent prices can be set accordingly. The amenities renters look for should also be considered. Guests willing to pay above-average rates usually seek high-end accommodations such as a spa, pool area, or fitness center. Additionally, having a property manager available to handle the day-to-day tasks of managing a vacation rental can help increase occupancy rates and bring in more revenue.
5 Tips For Maximizing Cash Flow From Your Property Rentals
As investors scale up their portfolios, maximizing cash flow from vacation properties has become an important consideration. Here are five tips for doing just that:
Reassess Your Property Rentals: Consider reducing rates during off-peak seasons or offering special discounts for longer stays.
Utilize Technology: Investing in technology such as digital locks, smart home systems, and online booking platforms can save you time and money in the long run.
Price Strategically: To maximize cash flow, consider seasonal fluctuations in demand and local events that may influence market prices.
Boost Cash On Cash Return: Consider ways to boost your cash on cash return, such as offering additional services (such as grocery delivery or ridesharing) or partnering with other rental businesses to get more exposure.
Invest In Quality Furnishings and Amenities: Providing quality furnishings and amenities will make your vacation property more attractive to guests, leading to higher occupancy rates and more money in your pocket.
Conclusion
Researching current industry trends is essential for any investor looking to make informed decisions with long-term success in mind. When done correctly, expanding a short-term rental portfolio can be both profitable and rewarding in the coming years. In addition, choosing the right team of professionals to support investment efforts, leveraging technology and property management companies, seeking out higher-yielding properties, and focusing on cash flow can all help ensure that investors are making sound investments with the potential to yield returns in the years ahead.